Largest Sale Of The Year In Sarasota County Is A Waterfront Home On Bird Key
SARASOTA, Florida—(May 8, 2009)—Even as sales in the lower price tiers of Southwest Florida's real estate market show signs of noticeable and sustained improvement, the upper end appears to be gathering a new head of steam as well.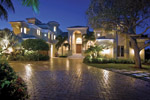 In the past several days, two significant sales hinted at resumed momentum in the luxury market wherever sellers meet the market head-on with realistic and aggressive pricing.
The most recent of those sales, a waterfront listing on Bird Key—represented by Deborah Beacham of the Longboat Key office of Michael Saunders & Company—set the record for the largest single residential sale in Sarasota County thus far this year. The home, at 552 South Spoonbill Drive on Bird Key, sold for $4.75 million on Wednesday, May 6th. The sale is also noteworthy for having gone to contract in only 128 days; an amazing feat in what has otherwise been a challenging market for sellers in the upper end.
The other sale—represented by Ken Torrington and Terri Derr, also of the Longboat Key office of Michael Saunders & Company—proved to be the largest in The Oaks since December 2007. The property, located at 136 Osprey Point Drive in the Oaks Bayside, sold on April 17 for $3.175 million. Joan Parkinson, of the Palmer Ranch office of Michael Saunders & Company, represented the buyer.