- First Place Award earned for Company Brand in international contest. -
SCOTTSDALE, AZ – Alain Pinel Realtors earned the First Place Award for Company Brand in the Luxury Portfolio Fine Property Collection® Marketing Contest, held in conjunction with the Luxury Portfolio Conference at the Westin Kierland Resort & Spa in Scottsdale.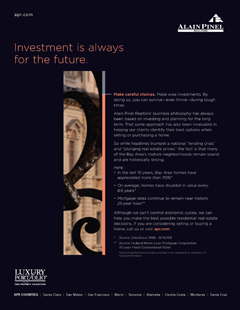 The award-winning entry in the Company Brand category was chosen based on professionalism of design, effectiveness in addressing the luxury audience and overall presentation. Alain Pinel Realtors was given the award at the Luxury Portfolio Awards Luncheon, where the network's achievement awards were presented.
"We received very positive feedback on our image campaign this year and it is a great honor to have the program recognized by this distinguished international group," said Larry Knapp, President and COO of Alain Pinel Realtors. "Our membership in Luxury Portfolio is a great benefit to our agents and to our clients".
"The companies affiliated with Luxury Portfolio are renowned for their expertise in marketing luxury homes," notes Paul Boomsma, president of Luxury Portfolio. "To earn distinction among this group is a significant honor, and I salute Alain Pinel Realtors for their achievement."
Launched in 2005, Luxury Portfolio Fine Property Collection® has grown to include over 15,000 of the world's most remarkable properties and attracts over 1.2 million high-net-worth visitors a year. The first to promote luxury properties in multiple languages and currencies, Luxury Portfolio is unmatched in the global arena, with members in 17 countries and website visitors from over 200 countries every month. The site's total inventory of available properties exceeds $35 billion. Please visit www.luxuryportfolio.com for luxury homes and luxury homes for sale throughout the world.
For more information about Alain Pinel Realtors, please visit www.apr.com.
About Alain Pinel Realtors
Alain Pinel Realtors is the largest privately-owned and independent residential real estate company in California. The firm had a sales volume of $5.7 billion in 2008 ($1.1 million per transaction) and has been consistently ranked in the Top 10 firms in the United States. It was founded in 1990 by Paul Hulme, current Chairman and CEO, and is based in Saratoga, Calif. Alain Pinel Realtors served 5,300+ clients in 2008 through its 30 offices in Santa Clara, San Mateo, San Francisco, Marin, Sonoma, Alameda, Contra Costa, Napa, Monterey and Santa Cruz counties. Alain Pinel Realtors is a founding member of Luxury Portfolio, an operating unit of The Leading Real Estate Companies of the World. The firm also has a joint venture partnership in the mortgage lending institution Private Mortgage Advisors, which is an affiliate of Wells Fargo Bank, N.A. For a complete listing of Alain Pinel Realtors offices, services and agents, please visit our website at apr.com.