San Francisco, CA – (April 28, 2009) – "Why survive when you can thrive?" asks Paula Pagano, a broker associate at Hill & Co. and one of San Francisco's leading real estate agents. She is the author of Secrets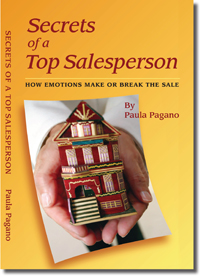 of a Top Salesperson – How Emotions Make or Break the Sale. The book will be sold to the general public at www.SecretsofaTopSalesperson.com beginning May 28th.
Pagano spent years pounding the pavement, dealing with challenging clients, and overcoming numerous obstacles. "I was not a natural born salesperson yet thirty years ago I became the #1 agent in my office for several years and this happened during a recession when mortgage rates soared to 17%," she explained. With this book, she reveals the secrets to that success.
"The first secret is to embrace all of you," said Pagano. "That's why I separated Secrets into three parts: the eight essential virtues, the eight potential vices and how to capitalize on your strengths while minimizing your weaknesses." Pagano suggests you review what you have done in your life so far and analyze what qualities have helped you along the way.
While teaching for Client Connect, an empowerment sales training program she founded in 2003, Pagano realized that most people give up too easily. "It's okay to fail and make mistakes—just don't ever give up," said Pagano. "A superstar salesperson can be rejected as many as seven times, yet his or her self-esteem remains intact. This may seem like an obvious thing, but most people don't know how to do it."
Most importantly, you need to be able to manage your emotions so that they contribute to your success—not hinder it. Pagano points out that it's important to take care of yourself, first and foremost, to maintain balance. Ironically, Pagano, who is proud to be of largely Sicilian descent with a bit of Irish and American Indian thrown in for good measure, finds this to be her biggest challenge. If you do happen to say something you regret, her recommendation is to stop the conversation before you get hurt or hurt someone else.
Secrets of a Top Salesperson—How Emotions Make or Break the Sale is as entertaining as it is educational. The book is for anyone following their passion because it shows how success comes to those who make life happen. Please visit www.SecretsofaTopSalesperson.com for more information.
Hill & Co.
Founded in 1956, Hill & Co. Real Estate is a San Francisco brokerage long associated with the City's finest properties. With three offices and nearly 100 full-time agents, the company enables clients to successfully navigate San Francisco's complex real estate market. Two additional Hill & Co. offices provide property management and rental services. For more information, visit www.hill-co.com.