Talk about deep discounts. The property downturn has wiped $50 million off the asking price of a single home in what may be the biggest cut ever on a U.S. house.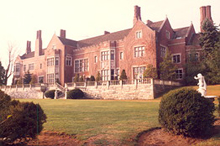 Now, for a mere $75 million, a buyer can snare the Greenwich, Conn., manor house of the late Leona Helmsley, complete with two pools, more than 13 bedrooms (six for servants) and a walk-in silver closet.
Leona Helmsley's Dunnellen Hall in Greenwich, Conn., seen here in 1986, went on the market a year ago for $125 million. It's now listed at $75 million.
The original asking price was $125 million, and industry veterans can't remember a bigger dollar discount. Last July, a Russian billionaire paid Donald Trump $95 million for a Palm Beach, Fla., mansion originally listed at $125 million.
Helmsley-estate representatives put the 40-acre property up for sale just over a year ago. Even then it was an aggressive price, local brokers said. In October, the estate slashed the price to $95 million.
Called Dunnellen Hall, the 20,000-square-foot Jacobean-style brick mansion is set on a park-like property in the Greenwich back country with views of the Long Island Sound. Brochure photos show a large marble reflecting pool and fountain in front and a back terrace leading to a rock- and plant-lined koi pond, flower beds, a large rectangular pool, many trees and a vast green lawn. The home has more than seven main bedrooms plus a staff wing with six bedrooms.
Mrs. Helmsley, one of the most famous names in New York real estate, and her husband, Harry, paid $11 million for the 1918 house in the early 1980s. They later bought more acreage. The ensuing renovation played a role in her undoing. Among the charges leveled at Mrs. Helmsley when she was convicted in 1989 of tax evasion was that she billed her company for millions of dollars in renovation costs. She served time in federal prison and died in 2007 at age 87.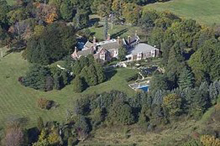 Real-estate prices in Greenwich, a hedge-fund capital, soared during the property boom. But sales there began to slow in early 2008 and remain glacial. Brokers say properties that are selling are concentrated at the lower end of the market, while luxury remains very weak.
"It's a beautiful, beautiful piece of property," says Barbara Wells, of Prudential Connecticut Realty, who has visited the mansion. "But there are very few deals happening; people are just looking and looking."
Steep price cuts are rare in ultra-high-end real estate, because most homeowners rich enough to own such a property are rich enough to hang onto it and avoid the embarrassment of what might appear to be a fire sale. When they failed to get the prices they wanted, financier Leonard Ross and the former Saudi Ambassador to the U.S., Prince Bandar bin Sultan, took their mansions (priced at $165 million and $135 million respectively) off the market in the last two years.
However, the Helmsley house must be sold per the terms of Mrs. Helmsley's will. Proceeds from the sale will benefit the Leona M. and Harry B. Helmsley Charitable Trust, which will receive the bulk of Mrs. Helmsley's fortune. In her will, Mrs. Helmsley famously gave $12 million to her dog, Trouble, and requested that the trust devote itself to dog-related causes. In February, however, a judge ruled the trustees could also donate to other causes.
Howard Rubenstein, the spokesman for Mrs. Helmsley's estate, said the trustees couldn't be reached for comment.
The home's baronial features include ornate lamp posts along the driveway, travertine marble floors, 15th-century fireplaces, extensive wood paneling, patterned plaster ceilings, two dining rooms, a wine cellar and a 52-by-26-foot indoor pool, according to the listing posted online with Greenwich realtor David Ogilvy & Associates.
The grounds also contain an outdoor pool, a pool cabana with a kitchen, a tennis court and two brick cottages.More information: http://www.luxuryrealestate.com/841386