BIRMINGHAM (April 8, 2009) – Hall & Hunter Realtors announces the promotion of Shondell Patterson to the position of President, Relocation & Corporate Services. She replaces Barbara Miller, who will remain at Hall & Hunter in real estate sales.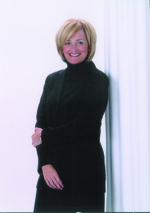 Since joining Hall & Hunter in 2002, Shondell has continued to make her mark - initially being named "Rookie of the Year" in her first year at the company, and since as a multimillion dollar producer with a proven record of relocating top executives and professional athletes. Prior to joining the management team, Shondell contributed to the company's long-range planning and assessment meetings and also served as a member of Hall & Hunter's Advisory Council.
In her new position, Shondell will be responsible for corporate development of relocation management accounts and overseeing the destination services of individuals and groups on a local, national and worldwide basis.
In addition to her work in the real estate industry, Shondell has served on numerous school and parish boards, as well as volunteering her time as president and national board member of Christ Child Society, a charity serving children in need.