San Francisco, CA – (April 7, 2009) – The block of 35th Avenue running from Kirkham to Lawton is widely b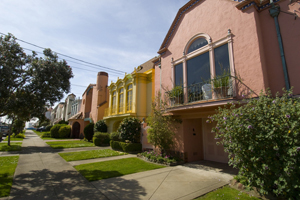 elieved the only block in San Francisco to consist of nothing but genuine Rousseau homes and was at one time referred to as "Storybook Lane". It exemplifies all the charm and whimsy that mark the architectural style of Oliver M. Rousseau, a San Francisco builder, developer and contractor.
A remarkable property, located at 1557 35th Avenue, is an original Rousseau rumored to be one of his model homes and has just been listed for sale by Else and Susanna Townsend, REALTORS® with Zephyr Real Estate in San Francisco.
Built in the early 1930s, the "Rousseaus" as they came to be called, were known for their quality and charm of design. This home embodies all of Rousseau's signature characteristics – faux balconies on the façade, an archway with wrought-iron gate between the dining and living rooms, a dramatic curved hallway with inset niches, stunning faux painting detail on the fireplace and breakfast room cabinetry, and most notably an open air patio set in the center of the home.
"We lived in a baby Rousseau on 33rd Avenue for many years, and I used to take walks on 35th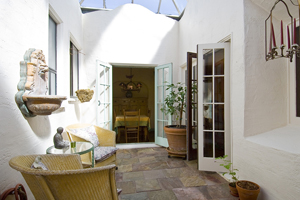 because I dreamed of owning one of these amazing homes," reminisced Deborah Lewis, who owns 1557 35th Avenue with her husband Jonathan. Their love of the home is evident in the painstaking care they've put into it over the years.
"This home has such charm and appeal, the moment you walk through the doors, you can feel it cast a spell over you. In a sea of architectural sameness in the Sunset, these houses really stand apart," remarked Else Townsend, real estate veteran with Zephyr Real Estate who has co-listed the property with her daughter Susanna Townsend.
The home includes two bedrooms and one bath on the main level, a large room with sleeping alcove and half bath downstairs, a sunken living room with high ceilings, formal dining room and separate breakfast room, updated kitchen, terraced garden with patio and fountain, and a large two-car garage. It is currently listed for sale for $979,000. For additional details and photos of the home, visit www.zephyrsf.com.
About Zephyr Real Estate
Founded in 1978, Zephyr Real Estate is San Francisco's largest independent real estate firm with $1.1 billion in gross annual sales in 2008 and a current roster of more than 250 full-time agents. Zephyr has seven offices strategically located in San Francisco and serves a large customer base throughout the City. For information, visit www.zephyrsf.com.