San Francisco, CA – (April 7, 2009) – It's no secret that there are many properties for sale in San Francisco. Today, it's more important than ever to give your property a competitive advantage in the marketplace.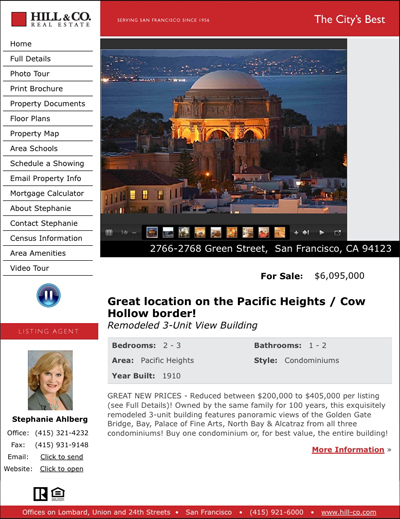 Properly pricing the property is of course paramount. Staging or preparing the property for presentation is invaluable. Hill & Co. Real Estate complements these two staples of property promotion with expansive, compelling online exposure. After all, studies indicate that at a minimum 70% of all property searches begin online.
"We build an address-specific Web site for every property we list," said Jay Costello, president of Hill & Co. "Not only that, we create Craigslist.com ads that are more appealing than what you usually find. We format them, so that they present the property better, guiding the visitor from one bit of information to the next."
The Craigslist.com formatting is also in place in e-flyers, created and sent to thousands of San Francisco Association of Realtor member agents located throughout the City.
The Web addresses typically appear on rider boards, placed beneath "For Sale" signs on the property. The Web addresses will also appear in all property promotion -- including brochures, postcards and print ads and flyers. There is also a link to the address-specific Web site located on the Hill & Co. Web site page that describes the property.
"The technologies and programs we employ really present our properties in a superior way," said Costello. "We work hard to see that our listings make a great first impression, whether seen for the first time in print, in person or online."
Hill & Co.
Founded in 1956, Hill & Co. Real Estate is a San Francisco brokerage long associated with the City's finest properties. With three offices and nearly 100 full-time agents, the company enables clients to successfully navigate San Francisco's complex real estate market. Two additional Hill & Co. offices provide property management and rental services. For more information, visit www.hill-co.com.