From The Steamboat Pilot & Today
Steamboat Springs, CO - (April 2, 2009) - Pete Wither said he's flown down the See Me run at Steamboat Ski Area thousands of times. Rarely has a trip down one of Mount Werner's most popular sections meant so much, however.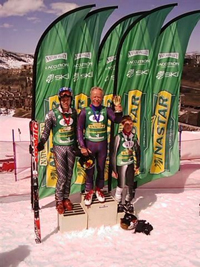 Wither's See Me scamper Sunday earned him the NASTAR Race of Champions time-handicapped championship.
"It was a heck of a thrill," Wither said. "I had a really good run, but I didn't know what to expect."
Wither finished the course with a time of 32.27 seconds. When the 66-year-old's handicap was added in, he had the best overall time of the nearly 70 racers who took part in the NASTAR finale.
More than 1,000 skiers race Friday and Saturday in the NASTAR National Championships, and only those who won their age and skill divisions were invited to Sunday's Race of Champions. Then, time handicaps were calculated from the previous action and factored into competitors' final Sunday times to establish the time-handicapped placings.
Steven Coulter, a racer in the 30- to 34-year-old gold division from the St. Louis area, was second, and 11-year-old Garrett Leis from Illinois' Chestnut Mountain Resort was third.
Sarah Goode, from North Carolina in the girls 1- to 4-year-old divisions, won the women's time-handicapped division, ahead of Abigail Murer from Missouri's Hidden Valley Ski Area and Heather Graves from Crotched Mountain in New Hampshire.
Wither said his knowledge of the steep pitch gave him an advantage in the race. It's likely that few had even a percent of his experience on the slopes of Mount Werner.
A regular at Steamboat Ski Area since it opened, Wither helped install the very first Christie chairlift while a high school student. He later spent 30 years as a ski patroller.
He said he still hits 100 days almost every season, has competed in races as long as the mountain has been open and tries to make every Town Challenge event.
"I was 18 years old, and we were hand-digging the places for the lift towers," Wither said, remembering his summer working for Jim Temple. "After that summer, they said 'OK Pete, we will pay you in company stock, land at the base area or cash.'
"I took the cash. I was 18, ya know, and you can't buy beer with land."
All that time paid off Sunday. Wither said the track was hard and icy, but he managed to avoid several tricky areas that sent other racers hurtling off the course.
Wither ran Steamboat's NASTAR course when it first opened in the early 1970s, and he was one of the first pace-setters. Still, Sunday's victory marked his first championship.
He qualified for last year's Race of Champions but skipped the event.
"I went powder skiing instead," he said. "This year I decided, 'Heck, might as well do it.'"
The day's racers were ranked immediately upon finishing their race, and whichever three had the best times waited on the podium in their corresponding positions.
Wither climbed to the top as soon as he finished and never stepped down.
"I skied really well," he said.