DENVER - (MARCH 30, 2009) – Doug Hutchins, a leading real estate professional, has joined The Kentwood Company in the Denver Tech Center as a top-producing Broker Associate. Hutchins is an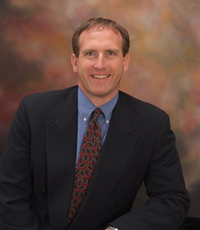 award-winning Realtor who ranked among his former company's top 20 individuals in 2008. He has also garnered prestigious awards recognizing outstanding sales production each year since 2004. Hutchins graduated Summa Cum Laude from Colorado State University in 1992 and earned his MBA degree from the Anderson School at UCLA in 1999.
Doug Hutchins holds special designations recognizing the successful completion of stringent continuing education courses in real estate. He is a member of the South Metro Denver Realtor Association, the Colorado Association of Realtors, and the National Association of Realtors. Hutchins currently serves the diverse real estate needs of clients throughout Castle Pines North, Castle Rock, Highlands Ranch, Littleton, and surrounding communities.
Hutchins won the Niedorf Fellowship award in 1997 while attending UCLA. He was honored as a member of the Western Athletic Conference All Academic Football Team in 1991. Hutchins is a member of the board of directors of the Castle Pines North HOA and is a member of the Castle Pines North Safety Task Force. He enjoys golf, scuba diving, and CSU football.
"Kentwood is the premier real estate brokerage in metro Denver," Hutchins said. "The real estate professionals at The Kentwood Company are the 'best of the best' in residential real estate. The brokers are knowledgeable, experienced, and the highest producing real estate professionals in the region. My personal philosophy has always been to surround myself with the best in the business so I can continue to learn and grow in my professional career. Being at The Kentwood Company allows me to achieve that goal."
Hutchins' business philosophy is to provide extraordinary real estate services to his clients by closely listening to their needs while developing the highest level of trust by providing clients with the information and expertise needed to successfully complete each real estate transaction.
For more information on real estate services from Doug Hutchins, phone 303-886-3437, or contact Doug via email at doug@doughutchinshomes.com.
The Kentwood Companies are comprised of The Kentwood Company in the Denver Tech Center, The Kentwood Company at Cherry Creek, and Kentwood City Properties in downtown Denver.
The Kentwood Companies are dedicated to its legacy of being "Colorado's Premier Real Estate Company" through the highest producing, most knowledgeable, caring and experienced sales team in the country, offering the highest quality customer service experience. The Kentwood Companies are innovators known for unparalleled marketing strategies and superior Internet technology that places its clients in the best possible position.
For more information, visit The Kentwood Companies online at www.DenverRealEstate.com.
# # #