Ross, Calif. (March 27, 2009)—Morgan Lane, a real estate brokerage specializing in luxury properties in Northern California, reports that it has attracted industry veteran Sherrie Faber to join its exceptional team of professionals. Sherrie Faber has been the top ranked Realtor® ( volume and units) in Sausalito since 2005. Last year Sherrie sold over $20 million in Sausalito real estate, out performing all other competitors by nearly double.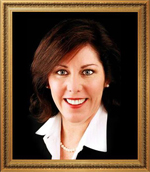 "We are very pleased to have Sherrie join our team here in Marin County. Sherrie's commitment to the Sausalito community and her results in the marketplace distinguish her as one of the best in the business. With invitations to join all of Marin's top real estate companies, Sherrie expressed her desire to join us at Morgan Lane in order to take advantage of our unique, cooperative culture and the quality of our professional team," said Mark A. McLaughlin, President of Morgan Lane Marin, Inc.
"Morgan Lane recruited me for the past six months. During the courtship, I also had the opportunity to visit with other firms in Marin County. My review of the Morgan Lane opportunity found me admiring the quality of professionals and the comprehensive property marketing programs." Sherrie added, "I now have a team of twenty-four of the finest Realtors® in Marin County to brainstorm, leverage and partner with to provide my clients the highest quality in real estate services."
Since opening in Marin County just over two years ago, Morgan Lane has already become the #4 real estate company in the county for homes over $1 million. Morgan Lane's sales for 2008 exceeded $315 million through the efforts of only twenty-four Realtors®. This is an amazing set of statistics in the current market.
"To attract Sherrie we expanded our operation to include an office for her in Sausalito," said McLaughlin. "By attracting Sherrie to our company we have complemented our premier market share position throughout Marin County and specifically, we will continue Sherrie's amazing reputation for performance in Sausalito, CA. "
Morgan Lane currently operates Marin County offices in Ross, Kentfield, Mill Valley, Sausalito and Belvedere. Morgan Lane's operations include many of Marin County's top agents, cutting-edge marketing programs and state-of-the-art technology. Morgan Lane is one of the most influential Northern California real estate companies with nine offices throughout Napa, Sonoma, Lake and Marin Counties.
For more information on Morgan Lane Marin, Inc., please contact Mark A. McLaughlin, 415-457-8200 or mmclaughlin@morganlane.com.