DENVER (March 2009)– Final remaining lofts and townhomes at the visionary Zi development in downtown Denver will be sold at the highest offer during an amazing "One Day Only Sales Event" scheduled for April 11, 2009 from 9 a.m. to 4 p.m. Located at 2229 Blake Street, prospective buyers and real estate professionals can view the lofts on Wednesday, April 8th from 9 a.m. to 4 p.m. Select units are available with a minimum offer of up to 20% off current listing prices. Don't miss this incredible opportunity to purchase a stylish, carefree residence in the historic Ballpark neighborhood near Coors Field and save handsomely in the process!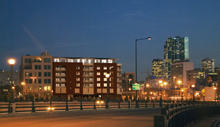 Remaining units at Zi include one, two, and three-bedroom designs ranging in size from 848 to a very spacious 3009 finished square feet with up to four baths. During the agent/public preview on April 8th, visitors will be provided with general marketing materials, sales comparables, and HOA documents. Attendees will also receive all disclosures and established minimum offers, financing and preferred lender information, and a Colorado real estate contract. Alyssa Jahns, a leading broker associate with Kentwood City Properties and exclusive listing agent for Zi, will be on hand to answer your questions and lend assistance.
Zi represents a rebirth of grace and beauty in LoDo's colorful, historic Ballpark Neighborhood. With Coors Field serving as the front yard of this elegant new loft and townhome development, residents will enjoy a downtown adventure showcasing professional sports, extraordinary shopping and dining, nearby recreational amenities, and a carefree lifestyle in a vibrant setting.
"Zi offers Denver urban living in a true Zen style," said Jahns. "The gorgeous new lofts and townhomes at this beautifully designed enclave showcase contemporary design, inspirational detailing, and a first-class downtown corner location. Just imagine living only steps away from Coors Field and within walking distance to the Pepsi Center, several athletic clubs, and Invesco Field at Mile High. Residents enjoy incredible shopping along the 16th Street Mall, the Tabor Center, Larimer Street, Denver Pavilions, and more. You can feed your cultural appetite throughout the River North Art District, at the Denver Art Museum, and the Denver Center for the Performing Arts. The extraordinary variety of restaurants in the area ranges from exciting brew pubs to gourmet dining establishments. It's simply a great location highlighted by fantastic design."
Zi represents downtown living on your terms. The city and all its attractions become an extension of your home. Zi, Asian for "grace and beauty," truly speaks to every detail within this extraordinary building.
Remember, the big "One Day Only Sales Event" at Zi is scheduled for Saturday, April 11th from 9 a.m. to 4 p.m., with the agent/public preview slated for Wednesday, April 8th from 9 a.m. to 4 p.m. Zi Lofts and Townhomes are located at 2229 Blake Street.
For more information, contact Alyssa Jahns at 303-810-7938 or via email at ajahns@kentwoodcity.com. Additional information is available online at www.zidenver.com.
Kentwood City Properties, formed in 1999, is the newest member of The Kentwood Companies, known nationally as Denver's premier real estate company. The company's street-front office at the corner of 17th and Wynkoop streets, directly across the street from Union Station, is comprised of nearly 45 of metro Denver's most experienced real estate professionals serving residential buyers, sellers, and developers. For more information phone 303-820-CITY (2489), and visit online at www.Kentwoodcity.com.
The Kentwood Companies is comprised of Kentwood City Properties, The Kentwood Company at Cherry Creek, and The Kentwood Company in the Denver Tech Center. View all Kentwood listings at www.DenverRealEstate.com.