During its 2008 Elite REALTOR Society Celebration Breakfast on March 19, 2009, the Northest Atlanta Metro Association of Realtors® named Bill Lawson the recipient of their Captain of Industry Award. This coveted award is given based on involvement in the Association as well as community service.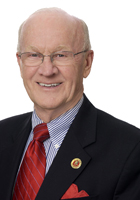 Lawson is an Associate Broker for Harry Norman, Realtors®' Atlanta Perimeter office. He has been a licensed Realtor® since 1975 and with Harry Norman, Realtors® since 1994. Lawson has held almost every available position on his local Board of Realtors® as well as several positions on the State Board. In 2001, he was awarded the Georgia Association of Realtors®' REALTOR of the Year designation. His numerous civic activities include the Atlanta Community Food Bank, Habitat for Humanity, Mountain View Personal Care Home as well as Tucker First United Methodist Church.
"We are so proud of Bill," said Harry Norman, Realtors® President Martha Hayhurst. "The Captain of Industry Award is such a huge achievement and one well deserved by Bill."
About Harry Norman, Realtors®
Founded in 1930, Harry Norman, Realtors® is Atlanta's oldest residential real estate firm with 17 offices and over 700 sales associates. Harry Norman, Realtors® is a wholly-owned subsidiary of HomeServices of America, Inc., a Berkshire Hathaway affiliate. HomeServices is the second-largest full-service independent residential real estate brokerage firm in the U.S. Through its affiliation with HomeServices of America, Harry Norman, Realtors® is part of a real estate family of 20,000 sales associates spanning 19 states. Harry Norman, Realtors® also achieves international exposure through membership in such exclusive real estate networks as Leading Real Estate Companies of the WorldTM the largest network of independent residential real estate firms, with 650 members representing 4,700 office and 120,000 associates across the U.S. and in over 20 countries. For additional information, visit www.harrynorman.com.