Osterville, MA March 20, 2009 - "This time we're using our first names", says Robert Kinlin and Paul Grover, of the newly launched Robert Paul Properties, Inc., a luxury boutique real estate firm focused on providing world class service and extraordinarily intelligent advice.
Leaders in the sale of waterfront and fine village property for over 25 years, Robert and Paul merged in 1994 when they opened Kinlin Grover Properties. In 1999, they sold to GMAC Home Services, and remained agents with the company through 2008.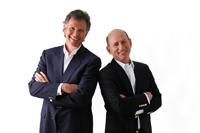 "Our plan for Robert Paul Properties is to be the broker of choice for waterfront and landmark real estate throughout Cape Cod and along the South Coast". "We are really thrilled to launch our new synergy-based, technology driven business model with our elite group of talented agents who also understand the need to exceed expectations".
"As a privately owned and operated company in today's volatile market, we can be innovative and relevant, providing the kind of meaningful service and innovative marketing demanded by our clientele."
More than courage, it takes a real belief in the future of the high-end real estate market, and Robert and Paul have that vision. "While others are discouraged by the financial collapse, we still believe there is no better place to invest your money, and no better way to enjoy life, than to own a home in a sought after location".
ABOUT ROBERT PAUL PROPERTIES, INC. - Robert Paul Properties, Inc. is a new high-end boutique real estate company with offices in Osterville, Marion and Provincetown, Massachusetts.