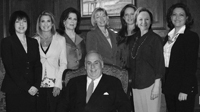 In an industry that sees much movement among experienced professionals, John Daugherty, Realtors recently welcomed back seven associates whose reasons for returning revealed a binding thread in the company's success - camaraderie.
Linda Bertman missed the networking, the management, and the feeling of family. "When John says we're a family, we are. It really is like a family."
Caroline Beaty feels that the company "enhances my ability to offer clients the difference between the ordinary and extraordinary."
Ida Grossman is happy to be home because, "it is the leading company in luxury home marketing and possesses the finest reputation for ethics and innovation."
Dianne Kilday said, "The camaraderie makes me feel like I've come home to the business I love."
Patricia Miles added "that the resources and support are phenomenal and after five years away I could not be happier to be back!"
For Andrea Thompson, "Welcome doesn't begin to describe it! I could not be happier to be back and feel such incredible support from the John Daugherty, Realtors family."
'Thrilling' is how Michelle Sandlin described her return. "I loved working here before, and I am thrilled to be part of this family once again."
"There is no greater compliment than to have a former associate return to our family, and we are so happy to have these professionals back with us," says John A. Daugherty, President and CEO of John Daugherty, Realtors. "Welcome home."