DENVER – Dee Chirafisi and Liz Richards of Kentwood City Properties have announced the immediate availability of the last remaining residence at the Gilpin Grove townhome development in Denver's Wyman neighborhood. Priced at $369,000, this elegant townhome offers three bedrooms, 3-1/2 baths, a two-car garage, and 1,466 square feet of beautifully finished living space. The affordable $60 monthly maintenance fee takes care of water, sewer, trash and snow removal, and maintenance of all landscaping and common areas. Don't miss this final opportunity to become an original resident of Gilpin Grove, a carefree enclave showcasing ultra modern architecture with an "eco twist."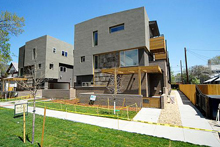 This final closing chapter at Gilpin Grove is the result of outstanding marketing endeavors by Dee Chirafisi and Liz Richards of Kentwood City Properties, the exclusive listing agents for Gilpin Grove. "Gilpin Grove is a thoughtfully designed development featuring some of the best designed spaces in Denver," said Richards. "These gorgeous townhomes are highlighted by very sleek, modern finishes in a fabulous neighborhood at a truly remarkable price point. To get a new townhome of this quality for under $400,000 is incredible, and there is only one final opportunity available."
So what's the key to successfully marketing Gilpin Grove and other new homes in a soft market? The president of Sprocket Design-Build, Inc., the developer of Gilpin Grove, lends his personal and professional insight on the efforts of Chirafisi and Richards.
"I have always admired the hard work and creativity that Dee Chirafisi has exhibited with marketing her client's properties," said Bill Moore, President of Sprocket Design-Build. "She and Jim Theye have grown Kentwood City Properties into the premier urban real estate brokerage in downtown Denver, creating great visibility for her clients and exciting choices for buyers. They have invested heavily in the community and therefore were an obvious choice for marketing our Gilpin Grove project.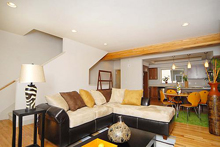 "I always look for Realtors that share similar values with our company's values and continue to admire Dee's commitment to maintaining a positive relationship with her clients long after the transaction has closed," Moore continued. "The partnership with Liz Richards has been fruitful and the two were a successful team while working on the Gilpin project. Liz's relentless promotions and outreach efforts have noticeably contributed to the traffic at our project. Her attention to detail and care was appreciated by buyers and their agents as well, contributing to the high 'close rate' of the contracts."
Gilpin Grove offers the amenities of single-family homes with the benefits of a new townhome. Each unit has a private entry, private two-car garages, three bedrooms, three baths, and a nicely-sized kitchen. There are two large terraces that are high above the neighboring buildings, creating unusually serene and private outdoor spaces for each unit.
"The key attribute of the Gilpin Grove project is the value that was delivered," said Moore. "There are very few projects that offer high-design features and the overall amenities that Sprocket provided in this particular price range. Much of the soft market has been exacerbated by a glut of new homes in similar price ranges. This particular project offered noticeably more for the buyers and there were very few competing projects in the area. The fact that financing could be obtained under the $417,000 FHA loan guidelines is not to be overlooked. In saturated markets, it is easy to say that 'nothing is selling,' but that is not entirely true. Apparently, many developers (Sprocket included) built too much of the same thing. Projects like Gilpin Grove that truly depart from the predominate price points and offer greater value seem to be moving well."
For more information on this final townhome at Gilpin Grove and other real estate services from Dee Chirafisi and Liz Richards, contact Dee at 303-881-6312, email deec@kentwoodcity.com, and Liz at 303-956-2962, email lrichards@kentwoodcity.com.
Kentwood City Properties, formed in 1999, is the newest member of The Kentwood Companies, known nationally as Denver's premier real estate company. The company's street-front office at the corner of 17th and Wynkoop streets, directly across the street from Union Station, is comprised of nearly 45 of metro Denver's most experienced real estate professionals serving residential buyers, sellers, and developers. For more information phone 303-820-CITY (2489), and visit online at www.Kentwoodcity.com. Visit all Kentwood listings at www.DenverRealEstate.com.