PRINCETON, NJ, MARCH 12, 2009 – Caroyn Spohn of Gloria Nilson GMAC Real Estate in Princeton has received the NJAR® Circle of Excellence Bronze award for 2008, ranking her among the top real estate professionals in the State.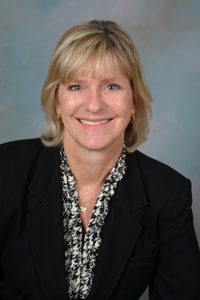 "I am always proud and honored to be a recipient of the NJAR® Circle of Excellence Award," said Carolyn Spohn. "I am extremely fortunate to have so many wonderful clients and enjoy helping everyone with their real estate needs. For some it is their first home purchase, others are relocating to a new area, many are simply making a move in residence due to lifestyle changes and there are those that need to sell because circumstances dictate it. Working like a 'chameleon', I put myself in their shoes and help them come up with the best solution. I enjoy marketing homes as much as I enjoy the search for the right house for a buyer," Spohn continued.
"Carolyn always goes the extra mile for her clients. She is consistently prepared for any situation. Her thoroughness is a top measure of her professionalism," said Susan Van Selous, Branch Executive for Gloria Nilson GMAC Real Estate.
The sales associates of Gloria Nilson GMAC Real Estate offer Premier Service®, a comprehensive customer-service program where sales associates put in writing, up front, the services they will perform. Following a transaction, customers are asked to honestly rate their agent's performance through a written survey tabulated by an independent research firm. Carolyn Spohn has a customer satisfaction rating of 100%.
The Princeton office of Gloria Nilson GMAC Real Estate is at 33 Witherspoon Street, Princeton, NJ. To reach Carolyn Spohn directly, call the office at 609-921-2600 ext. 157 or email cspohn@gnrgmac.com. For information about properties available, visit www.glorianilson.com.
About Gloria Nilson GMAC Real Estate
Gloria Nilson GMAC Real Estate has 16 offices and more than 600 sales associates throughout New Jersey. Owned by SCS Realty Investment Group, LLC, led by Dick Schlott, the company is a franchise of GMAC Home Services, which is owned by Brookfield RPS, a division of Brookfield Asset Management Inc. BRPS has one of the largest relocation companies in the world and its Realtor® network is nearly 30,000 strong, based out of 1,500 locations across North America.