Savannah, GA—Cora Bett Thomas Realty & Associates recently announced the top sales associates for their achievements during 2008 in the Savannah office.
"This extraordinary group of agents worked very hard and showed true commitment to real estate during one of the most difficult times of our profession," said Cora Bett Thomas, founder and CEO of Cora Bett Thomas Realty. "Service, a positive attitude and knowledge of the selling area set these agents apart and their sales speak for themselves."
The 2008 CBTR Georgia Top 10, which recognizes the Savannah offices top ten producers for 2008 at the Savannah office, included the following sales associates (in rank order, starting from 1st):
Ruthie Seese
Jamie Sumner
Melinda Martin Bailey
Stephanie Wilson-Evans
Peter Nelsen
Heather Booth
Betty "Ticky" Pinckney
Baker Leavitt
Alyson Arnold
Helen Duffy
Top Producers
The 2008 CBTR Georgia Top Commercial Agents included:
David Minkovitz
Betty Reiter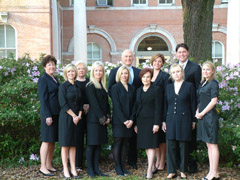 The Lifetime Achiever Award is a new honor this year that was presented to Patricia Bishop. She has been the firm's Agent of the Year for the past 12 consecutive years. Bishop was recognized for her outstanding sales and leadership in the Savannah office.
The 2008 CBTR Georgia Agent of the Year award, which honors the sales associate with the highest overall sales volume, went to Ruthie Seese for her outstanding sales and high level of customer service.
"I am so proud of all of these agents," said Thomas. "They have shown fortitude in this market and come out on top as leaders in this industry along the Georgia coast. I hope that this honor shows them how important they are to our team and continues to inspire others."
About Cora Bett Thomas Realty
With listings for the area's finest residential and commercial properties, Cora Bett Thomas Realty & Associates, is an exclusive affiliate of Christie's Great Estates and Mayfair International Realty and a longtime member of Who's Who in Luxury Real Estate, The Board of Regents, Luxury Portfolio, Leading Real Estate Companies of the World (formerly RELO). The firm dominates the luxury real estate market along the Georgia and South Carolina coast, with offices based in Savannah, Ga. and Bluffton and Beaufort, S.C. Under the leadership of founder and CEO Cora Bett Thomas, the company features an expert team of agents who specialize in historic homes, luxury condominiums, commercial real estate, investment property, land and waterfront property. For additional information, please visit www.CoraBettThomas.com online or call 912.233.6000.