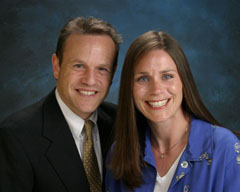 DENVER, CO (January 2009)– Paula and Wes Friedman, a top-producing real estate team known for stellar customer service and market knowledge, have joined The Kentwood Company at Cherry Creek as broker associates.  The Friedman's bring a broad spectrum of real estate expertise to The Kentwood Companies, including comprehensive marketing skills and years of experience in the luxury home segment of the business.  As members of the Denver Board of Realtors, the duo has garnered numerous awards throughout their distinguished career, including the Million Dollar Roundtable award recognizing superior sales achievement, in addition to several other prestigious honors. Paula Friedman earned her B.A. degree in Communications and Advertising.  Her professional background includes a position with Foote, Cone and Belding Worldwide, one of the nation's largest advertising agencies.  Wes Friedman, a Denver native and longtime Hilltop resident, earned his B.A. degree from the University of Colorado.Prior to pursuing a career in real estate, the Freidman's opened a national retail store at a major Denver mall and subsequently established a thriving semi-national wholesale distribution division as well.  The successful enterprise was subsequently sold.  Wes grew up in a textile business started by his father in 1939 where he oversaw six stores between Texas, Colorado and Utah.  One of the first stores was in the original Cherry Creek Mall.  He brings a wealth of business knowledge to the real estate industry. The Friedman's entrepreneurial spirit, coupled with an honest, forthright approach to business, has served them well in the highly competitive real estate industry.  Paula and Wes enjoy taking day trips with their family, cooking, hiking, and travel.  They currently serve the diverse real estate needs of clients throughout the Denver area, including Lowry, Winston Downs, Crestmoor, and Hilltop, among other Denver neighborhoods. 
 "We chose The Kentwood Companies because of the family culture and focus on advanced technology," said Wes.  "The company's award-winning website has garnered numerous accolades from industry observers, and Kentwood's marketing materials and programs are among the finest in the real estate business.  Our philosophies mesh perfectly, and we look forward to advancing our careers with such a professional organization."
"We are very pleased to welcome Paula and Wes Friedman to the Kentwood family," said Carol Ihli, co-managing broker and vice president of The Kentwood Company at Cherry Creek.  "Their reputation, dedication to superior customer service, and energy will enhance our top-producing team considerably.  We always seek the very 'best of the best' in this profession, and Paula and Wes Friedman are positioned in the upper echelon of the real estate business."
For more information on real estate services from Paula and Wes Friedman, phone 303-358-9434, or contact the Friedman Team via email at friedmanwes@comcast.net.  Additional information is available online at www.FriedmanColorado.com.
The Kentwood Companies are comprised of The Kentwood Company in the Denver Tech Center, The Kentwood Company at Cherry Creek, and Kentwood City Properties in downtown Denver. 
The Kentwood Companies are dedicated to its legacy of being "Colorado's Premier Real Estate Company" through the highest producing, most knowledgeable, caring and experienced sales team in the country, offering the highest quality customer service experience.  The Kentwood Companies are innovators known for unparalleled marketing strategies and superior Internet technology that places its clients in the best possible position. 
For more information, visit The Kentwood Companies online at www.KentwoodRealEstate.com.