San Francisco, CA – January 19, 2008 – It's all about location for the historic Victorian at 1612 Vallejo Street in San Francisco neighborhood that is now for sale. The architecturally significant family home is ideally situated between Franklin Street and Van Ness Avenue, nearby popular Polk, Union and Lombard streets in the Marina. It also has proximity to Chinatown, which is why Mark Ong's parents purchased the Pacific Heights home in 1960. They wanted their kids to be able to walk to Chinese school through the Broadway Tunnel each day. Pacific Union agent Richerson Farnsworth is representing the seller, listing the home at just over $2 million.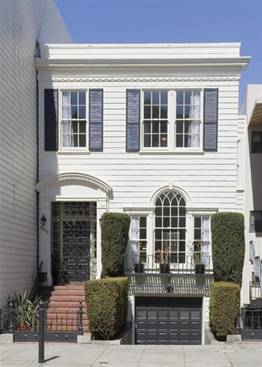 "Back in the 60s, it was not very common for Chinese families to move out of Chinatown," said Ong, who was raised in the Vallejo Street home with three siblings. His mother was author and ceramic artist Jade Snow Wong who passed away in 2006. "It is a really sound house great for families and entertaining. It came through both the 1906 earthquake and the Loma Prieta quake intact."
The grand four-bedroom, almost three-bathroom home is listed as architecturally significant by the San Francisco 1972 Survey. On the main level is a foyer, a sunny great room with fireplace, elegant dining room with fireplace, bathroom, and spacious eat-in kitchen with an outdoor deck. The upper level features the bedrooms, including a master suite with deck, two bathrooms and an office area. On the lower level is the garage with interior access, huge basement, mud room and a fabulous back yard.
In 1950, Ong's mother Wong published the first of her two autobiographical volumes, Fifth Chinese Daughter. Her second volume No Chinese Stranger was published in 1975. Wong's ceramics were heralded as well, and were displayed in art museums throughout the country, including a 2002 exhibition at the Chinese Historical Society of America. Wong also ran a travel service in San Francisco for more than 50 years.
To contact Rich Farnsworth, call his cell at 415.505.8288 or email rfarnsworth@paunion.com. Farnsworth is located in Pacific Union's Presidio headquarters office.
Pacific Union GMAC Real Estate
Since 1975, Pacific Union GMAC Real Estate has thoughtfully matched generations of buyers and sellers throughout the entire Bay Area. Pacific Union GMAC focuses on delivering outstanding quality and unparalleled service to a full spectrum of discerning clients. Pacific Union GMAC is the 2008 recipient of two distinguished four star Americas Property Awards in association with CNBC and The New York Times as the Best Real Estate Firm in California and for the Best Real Estate Agency Marketing in the USA for superior marketing materials and client services in the luxury marketplace. A premier, locally managed brokerage with knowledgeable, experienced real estate professionals, Pacific Union GMAC takes a leading edge to new technology applications designed to enhance the client experience. Pacific Union is a GMAC Home Services company. For more information, visit http://www.pacunion.com/.