Provided by Grace Lohn of Bloomsbury Properties International
Capa Cana, Dominican Republic - (December 28, 2008) - The renowned American actor, Denzel Washington was spotted visiting the distinguished tourism and real estate destination, Cap Cana this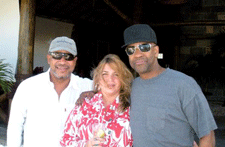 Sunday the 28th. The A-list celebrity was in Cap Cana for several hours for a pre-birthday celebration.
The director, leading actor of many box office hits, and two time Oscar winner spent the afternoon in villas Caletón with the prime Minister of Turks and Caicos, Michael Misick, the Dominican actress Dania Ramírez, and her relatives, as well as Rafael Fernández de Castro and his wife Lily Lluberes de Fernández.
Denzel Washington and prime Minister Misick, landed on their private G4 Jet, leaving on that same night to Turks and Caicos, where Washington's wife and kids were waiting to celebrate his birthday on the next day.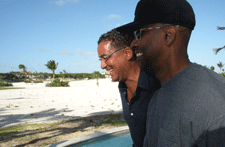 During his visit in Cap Cana, they both tour the property complementing the dimension and beauty of it, promising they will be back soon to enjoy it with more time. Then he enjoyed a delicious "sancocho" prepared by our Caletón's chefs.
Denzel Washington de Vista en Cap Cana
El afamado actor norteamericano Denzel Washington visitó por varias horas Cap Cana, celebrando por adelantado su cumpleaños en este reconocido destino inmobiliario turístico, ubicado en la zona más oriental de la República Dominicana.
El también director de cine, protagonista de múltiples películas y ganador de dos premios Oscar, estuvo por varias horas en el proyecto compartiendo en total privacidad, en Villas Caletón, con el Primer Ministro de Turcos y Caicos, Michael Misick, la actriz dominicana Dania Ramírez, familiares de esta, así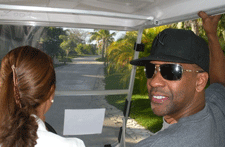 como los señores Rafael Fernández de Castro y su esposa Lily Lluberes de Fernández.
Denzel Washington junto al Primer Ministro Misick, aterrizaron en un Jet Privado G4, saliendo esa misma noche hacia Turco y Caicos, donde le esperaba a Washington, su esposa e hijos para festejar su onomástico al día siguiente.
Durante su visita a cap Cana, ambos recorrieron el proyecto elogiando la dimensión y belleza del mismo, prometiendo que regresarían muy pronto a disfrutarlo con más tiempo. Asimismo degustaron de un suculento sancocho preparado por los chefs de Caletón.