PALM BEACH GARDENS, FL - (December 2008) - For the past 6 years ILLUSTRATED PROPERTIES has helped Toys For Tots fulfill the Christmas dreams of the areas neediest children.
The real estate market may not be as strong as it was a few years ago, but the agents and staff at Illustrated Properties commitment and determination to give back to the community especially during Christmas, is definitely powerful.
Illustrated Properties estimates that they have donated between 600 - 700 bicycles to the Marine Toys for Tots drive during the 6 years they have been involved with this wonderful charity. Each year the Marines, visit the Illustrated Properties Corporate office in Palm Beach Gardens, Florida to pick up the amazing array of brand new children's bicycles of all sizes, colors and styles. They are loaded in to the enormous Marine trucks and distributed locally to the needy children.
This year the agents and staff donated 100 children's bikes. The goal of the Marine Toys for Tots foundation is to collect new, unwrapped toys and distribute them at Christmas to needy children within the community.
Illustrated Properties, is an affiliate of Who's Who in Luxury Real Estate, with 18 offices located in Palm Beach, Martin, St. Lucie and Collier counties in South Florida.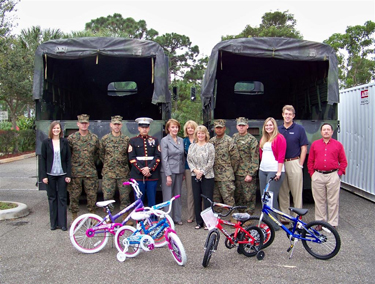 Pictured L to R: Heather Crimmins, Virginia Spencer, Mary Willoughby, Cheri Yonker, Amanda Fell, and Chappy Adams. The man in the red shirt is with the Marines.