For even the most seasoned real estate professional, 2008 was a challenging year. As the credit market tightened, the economy sputtered, foreclosures soared and the stock market took a hit, many were wishing for a crystal ball to see just when to expect a turn-around.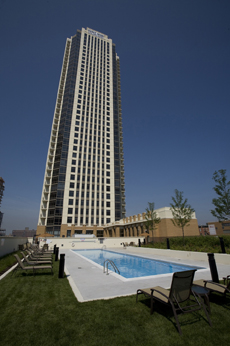 While none of us know exactly when we'll see big improvements in the Chicago-area real estate market, several local developers and agents offer up nine predictions for 2009:
1.) Less, With More:
Single-family homebuilders are predicting the continued movement toward smaller homes, with many buyers opting for less square footage as a means of saving more, said Jim Chittaro, chief financial officer for Naperville-based J. Lawrence Homes (http://www.jlawrencehomes.com/).
"We've definitely seen an increase in buyers opting for the smaller home with the lower base price, and then adding upgrades throughout," said Chittaro. "Rather than paying more for square footage, they're taking inventory of how much home they really need and deciding to go with a "quality over quantity" approach and adding features like a spa bath or gourmet kitchen that they'll enjoy for years to come."
Chittaro added that tomorrow's buyers are also very energy conscious, which is another reason why builders who offer smaller homes might find themselves more successful going forward. "Energy efficiency is very important to buyers and they're looking to save on utility costs when they can," he said. "One way to do so is to choose a smaller home, which costs less to heat and cool. Builders will need to design plans that are as efficient as possible and not waste any space."
2.) The New American Dream:
Homeownership has long been considered one of life's benchmarks, so much so, that the concept earned the moniker, "The American Dream." However, in today's economic climate, realizing that dream is no longer an option for many people. Does that mean they haven't yet made it? According to several of Chicago's luxury rental developers and managers, not at all.
"Today, credit is tough to come by. Many people can no longer line up financing to purchase a home, but they still want an impeccably-designed place to live," said Steve Fifield, president and founder of Fifield Companies (http://www.fifieldco.com/) who is developing K Station, a $750-million, 2,400-unit, master-planned community in Chicago's Fulton River District. "That's why our new-construction apartments include condo-quality finishes, such as stainless steel appliances and granite countertops, as well as luxury club-style amenities, including lounges, fitness centers, swimming pools and more."
According to Tony Rossi, president of RMK Management Corp. (http://www.rmk.com/), which manages more than 8,000 apartment homes in the Chicago and Minneapolis areas, some renters simply choose not to purchase a home.
"Homeownership includes a lot of added responsibility, from maintenance to unexpected fees, so the 'American Dream' really isn't the dream of every American," Rossi said. "Many of our residents simply prefer the renter lifestyle. They can enjoy luxury homes and amenities, without worrying about long-term commitment. We imagine that even more people will choose this option in 2009."
3.) Urban Suburban:
For years, a new-construction home in the suburbs meant moving into a cookie-cutter subdivision. But according to many suburban developers, their focus going forward won't be simply building homes, but entire downtowns complete with residential, retail, restaurants and more.
In Lemont, Ill., a suburb 30 miles southwest of Chicago, the Lemont Downtown Redevelopment Project, by Marquette Companies, is a $250-million mixed-use development that includes The Front Street Lofts (http://www.lemontlofts.com/), four five-story buildings with 82 lofts above 24,000 square feet of first floor retail space.
"Instead of contributing to suburban sprawl, our goal is to revitalize Lemont's historic downtown with new residential and retail offerings," said Bruno Bottarelli, partner of Marquette Companies. "With our lofts, we're able to offer buyers a unique housing style they can't find anywhere else in the area."
Five miles northeast of Lemont, Opus North has developed Burr Ridge Village Center (http://www.shopburrridge.com/), a mixed-use development that integrates condominiums, retail shops, restaurants, office space and pedestrian-friendly features into a 20-acre town center.
"Burr Ridge residents love having a true town center with restaurants like Cooper's Hawk Winery & Restaurant and Topaz Café, as well as more than 20 stores from both national and local retailers," said Kimberly Mans, assistant property manager for Burr Ridge Village Center. "Plus, no matter the season, residents can take advantage of events at the village green, ranging from movie nights and a farmer's market to outdoor concerts and our annual holiday tree-lighting ceremony."
4.) Condo-MAX-iums:
According to the National Association of Homebuilders, the average single-family home is 2,456 square feet. However, Chicagoland's developers have noticed buyers – from young families to downsizers – are looking for the same amount of square feet when buying a condominium.
This bigger-is-better mentality is clear at Ten East Delaware (http://www.teneastdelaware.com/), a luxury boutique high rise in the Gold Coast that offers plans as large as 2,910-square-foot plan. "There is no substitute for space," said Michael Reschke, chairman and CEO of The Prime Group, developer of Ten East Delaware. "At Ten East Delaware, we're seeing many young professionals who want homes that offer enough room to host dinner parties and one day raise a family. They don't want to outgrow their condo in five years. A true testament to this demand for spacious designs is the fact that we have only one remaining penthouse."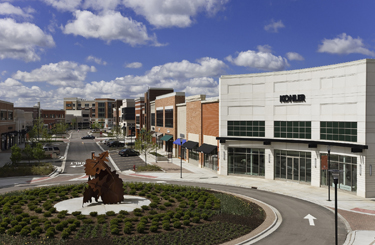 Developer Winthrop Properties said its largest floor plans at Winthrop Club (http://www.winthropclub.com/) in Evanston, which measure up to 2,874 square feet, have been very popular among downsizers and will continue to gain momentum in 2009.
"What we're finding is that downsizers don't really want to downsize at all. They're accustomed to the design of a single-family home and don't want to sacrifice space," said Bob Horner, co-principal of Winthrop Properties. "Rather, they seek the maintenance-free lifestyle and single-level living offered by a condo."
Matt Nix, vice president of development for Opus North, agrees. According to Nix, the developer's latest community, The Residences at Burr Ridge Village Center (http://www.burrridgevillagecenter.com/), has attracted many empty nesters that have lived in estate-style homes in the Burr Ridge area for years, and now want to enjoy the convenience of a large maintenance-free home that is within walking distance of shops and restaurants.
5.) Online Toolboxes:
According to the 2007 National Association of Realtors Profile of Home Buyers and Sellers, 84 percent of buyers use the Internet to search for a new home. Taking a cue from these findings, leading Chicagoland residential brokerage firms will be taking their services a step further by enhancing their sites with user-friendly Web tools that do much more than list homes for sale.
In 2008, @properties (http://www.atproperties.com/), the largest independently-owned real estate brokerage firm in the city of Chicago, released the @properties Market Report. This report, which is updated bi-annually, shows the average sales price and market time divided by neighborhood, and also by number of bedrooms and number of baths.
"Real estate is local in nature, so data that compares city to city home prices or number of days on the market doesn't tell consumers anything about their specific home," said Thad Wong, co-founder of @properties. "Instead, the Market Report lets users view data on homes that have the same number of bedrooms as theirs, in their same neighborhood, so it's much more useful to the local homebuyer or seller. It gives them a true 'apples-to-apples' comparison of home sales in their neighborhood."
In addition, the recent launch of residential real estate brokerage firm Koenig & Strey GMAC's (http://www.ksgmac.com/) new web site provides home buyers and sellers with access to one of the first search-engine-optimized real estate sites on the Web.
"Not only does the new Koenig & Strey GMAC web site make the best use of technology, but it also makes the best use of homebuyers and sellers' time," said Ayers. "As a search-engine-optimized site, it's designed to be indexable by search engines like Google and Yahoo! that consumers are already using, which makes for a much more efficient search process."
6.) Common Ground:
In the city, where green space is as high in demand as a parking space, some developers will start going the extra "yard" to give Chicagoans more outdoor community spaces.
At K Station, a 2,400-unit apartment development in downtown Chicago's Fulton River District, developer Fifield Companies (http://www.fifieldco.com/) and its joint-venture partner, Pacific Life Insurance Co., have built THEpark at K Station, a 1-acre park which they donated to the city of Chicago. "THEpark offers abundant green space, walking paths, a family play area, dog-friendly area and seating areas to the surrounding residents," said Steve Fifield, president and founder of Fifield Cos. "It provides a common area that never before existed in the Fulton River District where residents can take their children and pets, or just hang out with neighbors."
And in the bustling retail district of the Clybourn Corridor, residents will soon enjoy a 1-acre, fully-landscaped park and plaza that will be part of New City (http://www.getintonewcity.com/), a new 1-million-square-foot mixed-use development that will offer high-end, street-front retail at Clybourn Avenue and Halsted Street. "Residents will appreciate having an open green space – the first of its kind in this area – with dining tables and chairs where they can take a break from shopping, have a cup of coffee with friends or enjoy lunch from one of the nearby restaurants before running errands or picking up their kids from school," said Michael Drew, co-founder of Structured Development LLC, developer of New City.
7.) The Sure Thing:
With the real estate market in turmoil, buyers will be betting on the sure thing, said Ibrahim Shihadeh, co-principal of Winthrop Properties, developer of Printers Corner (http://www.printerscorner.com/) in the South Loop. "With our building complete and immediate move-ins available, sales momentum has been strong," he said. "We're one of the few buildings in the area ready for move-in. Until things smooth out a bit, buyers will continue to opt for developments that are complete or nearly complete rather than risk something that won't come to fruition or won't be as it was promised."
Also seeing strong demand for its immediate deliveries is Lexington Homes (http://www.lexingtonchicago.com/). The Chicago-based developer has move-in ready townhomes at Willow Place in Wheeling and Lexington Park in Des Plaines. Offering special pricing, homes at both communities are base-priced from the high $200,000s to the low $300,000s. "Many of today's buyers are drawn to immediate-delivery homes because they like knowing exactly what their home will look like and when it'll be ready for move in – the idea of selecting hundreds of finishes and waiting a year or so for delivery will no longer be the norm," said Jeff Benach, co-principal of Lexington Homes.
8.) The Resurgence of Rowhomes:
Dating back to colonial Philadelphia and Boston, the rowhome is a hallmark of traditional city living. But at Port Clinton Place (http://www.portclintonplace.com/), a new-construction for-sale community in Vernon Hills developed by Opus North, and the Residences at the Grove, a 294-unit luxury rental community in Downers Grove, managed by RMK (http://www.rmk.com/), even suburban residents will be enjoying the urban flavor of this classic housing style.
"Rowhomes were born out of practicality, as their shared walls made it possible to fit more homes in densely-populated urban areas. But today, many suburban buyers are choosing these homes for their urban style and overall aesthetic appeal," said Andrew Lockwood, real estate director for Opus North. "It's a housing style that's particularly appropriate at Port Clinton Place, which is part of a redevelopment plan to revitalize downtown Vernon Hills. Eventually this area will be a lively town center, much like the city neighborhoods where rowhomes first became popular."
According to Tony Rossi, the rowhomes at the Residences at the Grove provide renters with more square footage. "It's rare for renters to be able to enjoy things like attached, two-car garages or multi-level living, without having to rent directly from a homeowner. At the Residences at the Grove, they get a home that feels more like a single-family home than an apartment, but still have the advantages of living in a rental community, such as on-site maintenance and club-style amenities."
9.) Creating Community:
Many developers today are taking strides to form a sense of community among new residents before their homes are built – a trend that is expected to continue into 2009. Two Chicagoland communities – Park Place of Elmhurst (http://www.luxuryrealestate.com/admin/scripts/www.ParkPlaceElmhurst.com), a new continuing-care retirement community sponsored by Providence Life Services, and Marquette Companies' The Front Street Lofts in historic downtown Lemont (http://www.lemontlofts.com/) – have distinctive ways to foster friendships among future residents before they move into their new community.
Park Place of Elmhurst enhances community growth with its monthly program Positively Park Place, which includes cultural outings and presentations for future residents. Kristine Graeber, sales and marketing manager for Park Place of Elmhurst said, "Many of our future residents are very active and interested in the arts, so events like our architectural boat tour or our trip to the Art Institute not only connect them with potential neighbors who have similar interests, but enrich them mentally."
At The Front Street Lofts, developer Marquette Companies has partnered with the Village of Lemont to establish the Institute for Community in order to create strong relationships between residents and merchants in the revitalized downtown Lemont business district. Under this Community of Commerce initiative, merchants and business owners work together to help their mutual businesses thrive.
"Until the market corrects itself, it will be more important than ever before for buyers to feel good about their home purchase and their community," said Mike Vickery, executive director of the non-profit Institute for Community. "Empowering residents and businesses alike to guide the development of downtown Lemont will add value to and stimulate growth in the community, as well as attract new home buyers."
Editors: For current pricing or to schedule an interview, call Taylor Johnson & Olesker at (312) 245-0202.
Photo captions: Echelon at K Station – The pool at Echelon at K Station, a 350-unit, new-construction apartment community in Chicago developed by Fifield Cos. Echelon is the second apartment tower to be completed within K Station, a $750-million, 2,400-unit, master-planned community, north of the Fulton River District and west of the Chicago River. (2 – The New American Dream)
Kohler Village Green – Burr Ridge Village Center, a 20-acre lifestyle center in southwest-suburban Burr Ridge, Ill., developed by Opus North. (3 – Urban Suburban)
Hickory model at Willow Place – Willow Place, a community of 58 townhomes in northwest-suburban Wheeling, is currently offering immediate-delivery homes. Chicago-based Lexington Homes is the builder. (7 – The Sure Thing)