ATLANTA – December 9, 2008 – The Atlanta Board of Realtors® (ABR) has named Jim Alexander as its 2009 president.  A 20+ year residential real estate veteran, Alexander is currently vice president and managing broker of Jenny Pruitt & Associates' Sandy Spring office.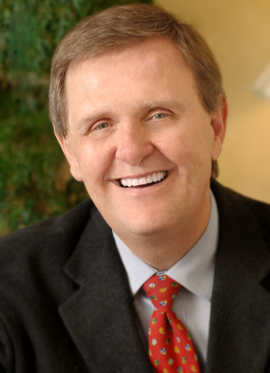 "With an almost 100-year history of business at the Atlanta Board of Realtors®, we have so much to be proud of," says Alexander.  "I want to continue to challenge our members to strive to be the very best they can be.  Our motto for 2009 is 'The Atlanta Board of Realtors® are committed to your success'."
On December 3rd, Alexander was installed as the new president at the ABR's 99th annual business meeting, held at the Cherokee Town & Country Club in Buckhead.  "He is exactly the person the Atlanta Board of Realtors® needs in this position for 2009," said Dan Parmer, CEO of Jenny Pruitt & Associates.
Alexander brings a wealth of knowledge and experience to the ABR, and will be a tremendous asset to their team.  In addition, he has been recognized by the ABR with the Captain of Industry and the Five Star Circle of Excellence awards.  In 2005, Alexander was awarded the President's Award. Alexander's credentials include being a Life Member of the Atlanta Board of Realtors' Million Dollar Club and he has earned the Certified Real Estate Brokerage Manager designation, which is held by only 6,000 brokers nationwide.  Last, he has been named to Who's Who in Residential Real Estate by The Atlanta Business Chronicle.
Before his successful real estate career began, Alexander worked as a teacher, administrator and coach.  This experience, combined with his understanding of contract law, gives him the unique ability to support and guide new and experienced sales associates in all aspects of the ever-changing real estate industry.
About Jenny Pruitt & Associates, REALTORS®
Founded in 1988, Jenny Pruitt & Associates, REALTORS® is one of the most trusted and highly respected real estate companies in metro Atlanta. Its team of more than 450 agents specializes in prestigious properties throughout the metro area.  The company is owned by HomeServices of America, Inc., the second-largest full-service, independent real estate brokerage firm in the U.S. Jenny Pruitt & Associates is affiliated with the Leading Real Estate Companies of the World, Christie's Great Estates, Who's Who in Luxury Real Estate, FIABCI – The International Real Estate Federation, and Luxury Portfolio Fine Property Collection.
About HomeServices of America, Inc.
HomeServices of America, Inc., based in Minneapolis, Minn., is the second-largest home services provider in the United States.  HomeServices' operating companies offer integrated real estate brokerage services, mortgage lending, title insurance, closing services, property and casualty insurance, home warranties and other real estate services. HomeServices was built through the combination of market-leading companies from across the nation with long-standing traditions for excellence.  The average age of a HomeServices of America operating company is more than 50 years.  HomeServices operates in 19 states under the following residential real estate brand names: Carol Jones REALTORS, CBSHOME Real Estate, Champion Realty, Edina Realty, EWM REALTORS, Prudential First Realty, Harry Norman REALTORS, HOME Real Estate, Huff Realty, Iowa Realty, Jenny Pruitt & Associates, REALTORS, Long Realty, Prudential California Realty, Prudential Carolinas Realty, RealtySouth, Rector-Hayden REALTORS, Reece & Nichols, Roberts Brothers, Inc. REALTORS, Semonin REALTORS and Woods Bros. Realty.  Information about HomeServices and the locations of its subsidiary companies is available at www.homeservices.com.