Goal to Bring Traffic to Listed Home Owned By Kay Murphy of K Designs
Napa, CA – (November 6, 2008) – In today's marketplace, the ability to creatively market a property is music to the ears. Pacific Union GMAC Real Estate's top producing agents Terry Wunderlich, Lynn Moore and Chris Wunderlich recently hosted a culturally-significant event with the Napa Valley Symphony at a client's home to get people talking.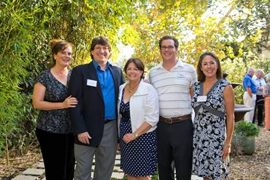 Called Meet the Maestro, the elegant, cross-promotional event attracted the movers and shakers of the Valley to the listing property at 1475 Inglewood Ave. in St. Helena. Sponsors included Union Trust Mortgage Services, Alan's Photography, Silverado Country Club, Auberge du Soliel, Catacula, Joseph Phelps and Charbay Wineries, and artist Christine Crozier.
Wunderlich, locally recognized as one of the most productive real estate teams in the Napa Valley her group called NapaWunder and one of the Top 100 Agents of GMAC nationwide, was presented this award by an overwhelming vote by her peers.
For more information on Wunderlich, visit www.napawunder.com.
Pacific Union GMAC Real Estate
Since 1975, Pacific Union GMAC Real Estate has thoughtfully matched generations of buyers and sellers throughout the entire Bay Area. Pacific Union GMAC focuses on delivering outstanding quality and unparalleled service to a full spectrum of discerning clients. Pacific Union GMAC is the only firm in California to receive a distinguished four star International Property Award in association with CNBC Europe and the London Daily Mirror for superior marketing materials and client services in the luxury marketplace. A premier, locally managed brokerage with knowledgeable, experienced real estate professionals, Pacific Union GMAC takes a leading edge to new technology applications designed to enhance the client experience. Pacific Union is a GMAC Home Services company. For more information, visit www.pacunion.com.