NEWPORT, RI – (Oct. 14, 2008) – Gustave White Sotheby's International Realty announced today the sale of their exclusive listing "Seaweed" located at 740 Bellevue Avenue, overlooking Bailey's Beach in Newport, Rhode Island. The exceptional waterfront estate sited along Newport's famed Cliff Walk was owned by the family of the late Rita Dolan Sellar.
The recorded sales price was $7,750,000 and did not include a separate two bedroom cottage abutting the main house. This price reflects the highest recorded residential sale in Rhode Island to date in 2008 and the 4th highest in Newport real estate history. The top residential sale in Rhode Island, also handled by Gustave White Sotheby's Int'l Realty, is "Miramar" also on Bellevue Avenue, which closed in 2006 with a recorded price of $17,150,000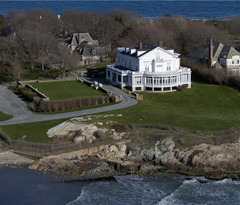 Paul A. Leys, listing broker and co owner of Gustave White Sotheby's Int'l Realty stated "this property had been on the market for just over one year and saw a tremendous amount of traffic from interested buyers over the course of the listing. In fact, during the final negotiations there were two separate buyers vying for the property".
'Seaweed' was designed by Horace Trumbauer, noted architect for The Elms. It sits on almost three acres of land and has just under 9,000 sq. ft. of living space.
About Gustave White Sotheby's International Realty
Gustave White Sotheby's International Realty is a full­service agency specializing in luxury real estate and serving all of Rhode Island as well as southeast Connecticut and parts of Massachusetts. Gustave White has been in business for over 78 years as a leader in the luxury market in Newport County and is the sole Sotheby's affiliate for Rhode Island. Gustave White offices are located at 37 Bellevue Avenue in Newport, 18 Granite Street in Westerly, and 182 Butler Avenue in Providence. Co­owners Christina West and Paul Leys can be reached at 401­849­3000 or at gustavewhite@gustavewhite.com.