SAN FRANCISCO – (Oct. 13, 2008) –
Green is where it's at and this is one high-quality, green townhome. Located in a dynamic Berkeley neighborhood just blocks from the hip 4th Street shopping district,
2209 5th Street C
is made of the finest, most sustainable and energy-efficient materials and appliances available, and is now available to tour by appointment.
Pacific Union GMAC Real Estate
agent Nancy Moore represents the seller. Listing price for the exceptional home is $945,000.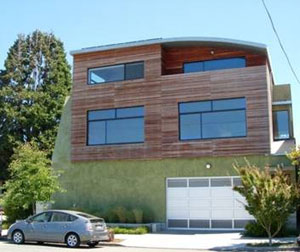 "This urban chic home is amazing with every detail featuring a green component, from solar panels, radiant heating, high efficiency fireplace, low VOC paint throughout, FSC certified flooring and more," said Moore, who works from the Pacific Union Montclair office. "The location is even green, allowing you to leave your car in a secure, sheltered garage and walk to shops and restaurants on bustling 4th Street."The architecturally stunning townhome was green-built in 2005. The upper level has two bedrooms and a bathroom. The middle level features a large living space with rich hardwood floors, fireplace and an open chef's kitchen with Energy Star appliances. The spacious lower floor offers maximum flex space and beauty, featuring the main entry, a full bath, laundry facilities and sliding doors to the patio. It is pre-wired to allow division into two rooms if desired. Polished concrete floors reflect light from the serene patio surrounded by bamboo and Japanese Maples.For more information about the property, visit
www.DwellGreenon5th.com
, or to request a showing, contact Nancy Moore at 510.338.1302,
nmoore (at) pacunion.com
.
Pacific Union GMAC Real Estate
Since 1975, Pacific Union GMAC Real Estate has thoughtfully matched generations of buyers and sellers throughout the entire Bay Area. Pacific Union GMAC focuses on delivering outstanding quality and unparalleled service to a full spectrum of discerning clients. Pacific Union GMAC is the only firm in California to receive a distinguished four star International Property Award in association with CNBC Europe and the London Daily Mirror for superior marketing materials and client services in the luxury marketplace. A premier, locally managed brokerage with knowledgeable, experienced real estate professionals, Pacific Union GMAC takes a leading edge to new technology applications designed to enhance the client experience. Pacific Union is a GMAC Home Services company. For more information, visit
www.pacunion.com
.