HUNTINGTON, N.Y. – (Oct. 8, 2008) –
Daniel Gale Sotheby's International Realty
, one of the nation's leading realtors, has entered into a partnership with Dougall Fraser Real Estate, Garden City's No. 1 real estate office. Daniel Gale Sotheby's President and CEO Patricia Petersen made the announcement.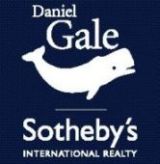 "We are particularly excited about our partnership with Dougall Fraser for a number of reasons," explained Ms. Petersen. "Garden City is a natural affinity market for Daniel Gale Sotheby's and the upper end real estate organization that we run, and Dougall's firm shares our commitment to the highest standard of professionalism, integrity and expertise. In addition to his continuing work in Garden City, Dougall will also be a valuable partner in our new East End offices, as he has deep family roots in Cutchogue. Together our combined resources will offer unparalleled local knowledge and exceptional marketing with a global reach to our clients and customers.""Dougall Fraser Real Estate has enjoyed great success and a wonderful ongoing relationship with its clients and customers over the years," says Mr. Fraser. "Partnering with Daniel Gale Sotheby's will allow us to continue to improve the level of service we insist upon. Daniel Gale Sotheby's marketing programs and overall expertise are second to none."In 1989, after 20 years as a leading real estate agent, Dougall Fraser established his own firm in his hometown of Garden City. The success of Dougall Fraser Real Estate was immediate, and since then the organization has steadily held the number one position in the community. Fraser's team of sales professionals has joined Daniel Gale Sotheby's 600-plus agents. Their Garden City office will be known as Daniel Gale Sotheby's International Realty, Dougall Fraser Division.Fraser also has a strong connection to the North Fork of Long Island. His family has summered there for 50 years and is enmeshed in the local community.As part of Dougall Fraser's partnership with Daniel Gale Sotheby's International Realty's, both buying and selling clients will benefit from increased exposure to a national and global audience through extensive worldwide marketing and the Daniel Gale and Sotheby's International Realty websites. Homes will also be featured in Daniel Gale Sotheby's Premier Properties and showcased at Sotheby's auction house and global offices.Founded in 1922, Daniel Gale Sotheby's International Realty consistently leads the nation in achieving one of the highest average sales prices in the country. It is a $2 billion plus organization with more than 600 sales associates in 30 offices and divisions spanning Long Island. Services include an award-winning Relocation Center, a ew Homes division, a Condominium Group, a Commercial Division; Ambassador Abstract, a full-service title company, and a Wells Fargo Mortgage affiliation. Daniel Gale Real Estate has been the exclusive Sotheby's International Realty® affiliate for Long Island's North Shore since 1976. Over the course of this relationship, Daniel Gale Sotheby's International Realty has gained exceptional national and international recognition, including taking top honors worldwide for the past several years.Daniel Gale Sotheby's International Realty is a member of Residence, The Registry, and is on the
Luxury Real Estate
Board of Regents
, a global network of leading real estate companies. More information may be obtained at
www.danielgale.com
.