PRINCETON, N.J. – (Oct. 8, 2008) –
Linda Kriebel Gillespie has joined
Gloria Nilson GMAC Real Estate
of Princeton as a sales associate. With over 8 years of Real Estate experience, Kriebel Gillespie combines her professional background with a commitment to helping her customers achieve all of their real estate goals.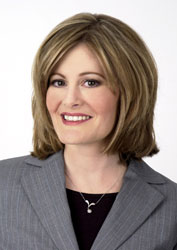 "I am so excited to join forces with Gloria Nilson GMAC! I've learned a lot along the way but I know that with Gloria Nilson GMAC by my side I can achieve even greater success. The stellar reputation, the impeccable agent roster and the personal touch from the management team solidified my decision that this is the right place for me to be," says Kriebel Gillespie. She feels the current real estate market presents tremendous opportunity and looks forward to servicing her clients with the powerful tools and superior support of Gloria Nilson GMAC Real Estate. Prior to becoming a real estate sales associate Kriebel Gillespie was an Admissions Coordinator with the MBA program at UCLA. In her spare time, she enjoys being with her husband and 4 boys ranging in age from 18 years to 6 months. She loves to travel and enjoys keeping physically fit."We are so excited to have Linda as part of our team. Her experience, her wealth of knowledge and her southern etiquette are the perfect compliment to our philosophy of Premier Service. Linda's transition has been seamless," says Susan Van Selous, a Branch Executive with Gloria Nilson GMAC Real Estate.Gloria Nilson GMAC Real Estate is ideally suited to serve the luxury buyer through its affiliation with The Board of Regents, an exclusive network of the world's most elite luxury real estate brokers. Kriebel Gillespie and the sales associates of Gloria Nilson GMAC Real Estate utilize GMAC's Elegant Homes innovative luxury home marketing program to service their luxury properties.The Princeton office of Gloria Nilson GMAC Real Estate is located at 33 Witherspoon Street. To reach Linda Kriebel Gillespie directly, contact her at 609-921-2600 ext. 126  or
lkriebelgillespie (at) gnrgmac.com
. For information about properties available, visit
www.glorianilson.com
.
About Gloria Nilson GMAC Real Estate
Gloria Nilson GMAC Real Estate has 16 offices and over 700 sales associates throughout New Jersey. GMAC Home Services, LLC is the parent company of Gloria Nilson GMAC Real Estate with nearly 20,000 agents and more than 1,000 office locations throughout the United States, Puerto Rico, Canada and Portugal. In addition to real estate brokerage, GMAC Home Services LLC provides comprehensive relocation, mortgage and real estate brokerage franchise services.