PRINCETON, N.J. – (Oct. 1, 2008) –
The top agents of
Gloria Nilson GMAC Real Estate
were recently invited to attend a meeting with company president
Pat Bell
at the Nassau Club in Princeton. This season's meeting of the President's Advisory Council included presentations of several new programs being launched by the company.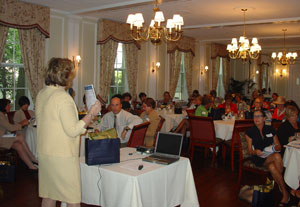 "The agents of our President's Advisory Council represent the 'best of the best' among our expert team of sales professionals at Gloria Nilson GMAC," said Bell. "Their interests, challenges and ways of doing business are very important to us, and I wanted to recognize their accomplishments and reward them with information and programs to help them be even better at what they do."One of the programs presented at the meeting was an innovative new Web-based marketing platform that will be available to all sales associates with Gloria Nilson GMAC Real Estate. President's Advisory Council members were also given a preview of the company's new listing presentation design as well as a presentation featuring strategies and tools to help them build their business. The presentations were given by Meryl L. Mosack, the company's luxury marketing and training specialist.Bell schedules regular events and meetings with the agents of Gloria Nilson GMAC Real Estate's 16 offices to gain their input on new company tools and resources.Gloria Nilson GMAC Real Estate is an exhibition patron of Morven Museum and Garden, which was the location for the President's Advisory Council reception. The reception honored the 225th anniversary of Princeton's service as the nation's capital. For five months in 1783 Princeton hosted Congress, which had fled Philadelphia under threat of military mutiny.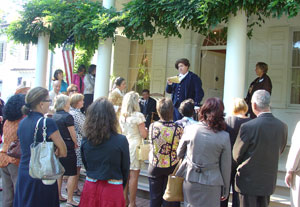 At the reception, re-enactors from the American Historical Theater portrayed 1783 Congress president Elias Boudinot and his sister Annis Boudinot Stockton, the mistress of Morven. Elias Boudinot issued the proclamation to move the nation's capital to Princeton and Annis Boudinot Stockton hosted many events at Morven, the Stockton Estate in Princeton, for members of Congress.After the President's Advisory Council meeting, the 50 top agents attending enjoyed a private tour of Picturing Princeton 1783: The Nation's Capital — an exhibit at the Morven Museum comprised of 10 galleries with more than 80 paintings and prints."This President's Advisory Council event was a chance for us to honor our company's top producers, while also honoring the town of Princeton and its contribution to our nation," said Bell. "As one of the major market areas we serve, Princeton is an important community to our company and a fitting locale for this special event."All Gloria Nilson GMAC Real Estate offices provide a full suite of real estate services that includes mortgage, title, home warranty, insurance and relocation services.Along with having a
97-percent company customer service rating overall
, based on surveys tabulated by an independent research firm, each of the 16 offices of Gloria Nilson GMAC Real Estate are market leaders in volume in their respective market areas. For information about the company's Premier Service Guarantee as well as properties available, visit
www.glorianilson.com
.