SAN FRANCISCO – (Sept. 23, 2008) –
Lorraine Shirley, a San Francisco native with more than 20 years of experience in residential real estate, recently joined
Hill & Co. Real Estate
. Prior to joining Hill & Co., Lorraine managed a national real estate office where she reviewed contracts, and supervised and trained other agents.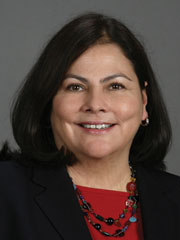 "Lorraine has a wonderfully diverse and rich background in employee counseling and training, finance, profitability and contract compliance, all of which will serve her clients well throughout the entire process of selling or buying a home – particularly when it comes to negotiations and contract management. We're delighted to have her on board," said Jay Costello, President of Hill & Co.Lorraine is excited about once again focusing on clients and their homes, the very things that drew her to this business in the first place.She has traveled widely, speaks Spanish and is a published writer, having written extensively on community real estate and housing.Lorraine is a Friend of the Sharon Art Studio in Golden Gate Park. She also serves as an officer of the Native Daughters of the Golden West (NDGW). Both organizations participate in education and scholarships. The NDGW also helps preserve and restore California monuments and makes a positive difference for children with special needs.
Hill & Co. Real Estate
Founded in 1956, Hill & Co. Real Estate is a San Francisco brokerage long associated with the City's finest properties. With three offices and nearly 100 full-time agents, the company enables clients to successfully navigate San Francisco's complex real estate market. Two additional Hill & Co. offices provide property management and rental services. For more information, visit
www.hill-co.com
.