SEATTLE – (Sept. 23, 2008) –
Niurka
, a highly sought-after inspirational speaker, will give a presentation entitled "Supreme Influence: The Power of Masterful Communication" at the
13th Annual Luxury Real Estate Fall Conference
, which will be hosted in Philadelphia on October 11-14, 2008 at The Ritz-Carlton, Philadelphia.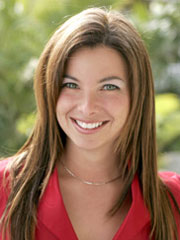 "To master your communication and influence others, you must first powerfully communicate with yourself," Niurka said, describing what she will share with her listeners. "In this experiential and informative session, I will teach specific tools to align people's thoughts, words and actions, purposefully and powerfully communicating to translate their desires and intentions into tangible results."Since 1994, Niurka has devoted herself to mastering the art and science of effective communication and influence. She is an experienced keynote speaker, consultant and peak-performance coach. As an entrepreneur, she founded Niurka, Inc. in 1999 to serve the growing demand for customized training, consulting and results-coaching solutions.Demonstrating her effectiveness, Niurka has worked with a variety of well-known brands to increase their productivity. These include Mercedes-Benz, Century 21, Coldwell Banker, Keller Williams and World Financial Group. She has also received the prestigious Wall Street Journal Award for her excellence in business and finance.In her presentation, Niurka says her listeners will learn to:- Communicate in a way that puts others in a space of instant action.- Interact with power, congruency and charisma.- Transform old habits and limitations into successful practices.- Become even more influential.More than 250 LuxuryRealEstate.com members from around the world are expected to attend the Fall Conference in Philadelphia. Immediately after the conference, a select group will also travel to New York City for a Networking Trip for several days.For more information on Niurka, visit
www.niurkainc.com
. For more information on the Fall Conference, visit
www.luxuryrealestate.com/conference
.
About LuxuryRealEstate.com
www.LuxuryRealEstate.com
is the most-viewed luxury real estate Web site in the world. The Who's Who in Luxury Real Estate network includes 1,922 of the world's finest real-estate companies with properties in 98 countries. Participation is strictly invitation-only by CEO/Publisher John Brian Losh. In
Ultimate Homes'
2008 issue, the network represented more than twice the number of top 1,000 most-expensive properties in the country than any other network. The Who's Who in Luxury Real Estate network is governed by the
Board of Regents
.