SARASOTA, Fla. – (Sept. 18, 2008) –
Peter Sawczynec, a specialist in residential real estate sales in the Charlotte County communities of Rotonda, Gulf Cove, South Gulf Cove and Cape Haze properties, has joined the Englewood office of
Michael Saunders & Company
, it was announced today from the company's headquarters in downtown Sarasota.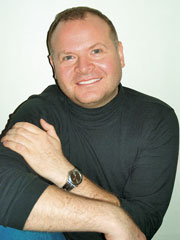 A native of New York State, Sawczynec earned his bachelor's degree from Syracuse University, where he also excelled as program director of the college's FM station. In this capacity, he managed more than 200 on-air student talents.A former advertising copywriter, Web site developer and Internet product manager, Sawczynec brings a vast knowledge of creative solutions, targeted marketing and technology capabilities to benefit his clients as they buy and sell properties in an age where more than 80% of buyers depend on the Internet as their initial source of property information.As a real estate professional, Sawczynec recognizes that every real estate experience is an important, personal process demanding experience, understanding, attention to detail and a strong commitment to customer service.Peter Sawczynec can be reached at (941) 473-7750 or by email at
PeterSawczynec (at) michaelsaunders.com
.
About Michael Saunders & Company
Now in its fourth decade of service to Southwest Florida, Michael Saunders & Company has grown from a single small office into a network of 16 full-service offices—with more than 500 professionally trained associates and 200 staff members.  Powerful world-wide affiliations—including Leading Real Estate Companies of the World, Luxury Portfolio, Christie's Great Estates, the European Real Estate Network (EREN) and Mayfair International Realty extend the company's message to qualified buyers globally, ensuring the broadest possible exposure for our properties.Michael Saunders & Company is ranked as the 75th largest brokerage in the nation in the 2008 Power Broker Report  compiled by RIS Media, the and is included among the 35 most influential Realtors in luxury real estate.Customers of Michael Saunders & Company are assured of a comprehensive array of real estate services that will address every need and exceed all expectations.  These services include commercial sales and leasing through the company's Commercial Division, along with mortgage loan origination and full title and closing services.  MSC Mortgage provides a full array of mortgage products through its partner, Wells Fargo Home Mortgage; while the expert team at MSC Title includes title examiners, processors, and closers dedicated to building on the reputation of Michael Saunders & Company for unequalled service and solutions.  Backed by the underwriting strength of First American Title and Chicago title, MSC Title provides peace of mind by assuring that a buyer's new property is free of liens and title defects.  The award-winning MSC Relocation Division provides corporations with a wide range of relocation services to smooth the transition and assure immediate employee productivity in the new environment.At Michael Saunders & Company, ours is a company-wide commitment to enrich the lives and culture of the communities we serve.  Each year, the company makes significant contributions to more than 75 charitable, educational and cultural institutions throughout the region.  These include Boys & Girls Clubs of Sarasota, Junior Achievement, Child Protection Center, The Dyslexia Foundation, Florida Studio Theater, Mote Marine Laboratory, Westcoast Black Theater Troupe, Manatee County Schools Foundation, Manatee Community College, University of South Florida Foundation, Education Foundation of Sarasota County, Marie Selby Botanical Gardens and the Community Foundation of Sarasota.For more information about Michael Saunders & Company, please call 1-888-552-5228 or visit us on the Web at
www.michaelsaunders.com
.