SARASOTA, Fla. – (Sept. 4, 2008) –
Prudential Palms Realty
has just announced that Chris Harrington is returning to Sarasota to be Chief Operating Officer of the company. In this capacity, Harrington will oversee all branch offices stretching from Manatee to Charlotte counties. Harrington will begin on Monday, September 8th, with an office in the corporate headquarters at 130 N. Tamiami Trail in Sarasota. He leaves a position as COO of York Simpson Underwood of Raleigh, North Carolina, where he was responsible for seven residential sales offices and 280 agents.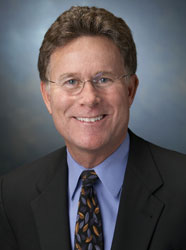 "We are thrilled to have Chris Harrington join our executive team," remarked Helen Sosso, founder and CEO of Prudential Palms Realty. "He was a driving force in our local market, well-liked and respected. We feel very lucky that he wanted to return to Florida and that he will be a part of Prudential Palms Realty. Even in this uncertain market, we are growing our company by adding new programs and opportunities for our agents. Chris has great experience and has always been a wonderful leader in the real estate industry. His innovative spirit and expertise will be a great addition to our company."Chris Harrington has had an interesting and varied career. He moved to Sarasota in 1982 and worked as a tennis instructor. From there, he moved quickly into management and within about a year started a 12-year position as director of operations for the PGA Tournament Players Club. In the year 1995, Harrington began his real estate career and moved up from sales associate to office manager to managing broker until leaving Sarasota last year for Raleigh."Although, my family and I missed Sarasota, we weren't thinking about making a change until fate sort of stepped in," Harrington explained. "Recently, I was in town on an annual golf outing when my flight back to North Carolina was grounded, due to Tropical Storm Fay. A chance meeting with Helen Sosso turned into two days of discussions and an offer I couldn't refuse. Helen Sosso has made her mark in this community as a leader and an innovator. She has built a company that strives to stay ahead of the curve with their technology, their training and other programs that support their sales associates. This is a very exciting opportunity for me and I am very excited to return to the Sarasota/Manatee area as COO of Prudential Palms Realty. It's rare when a tropical storm can become a positive life-changing event, but this time, for us, it did."Prudential Palms Realty combines top local agents with the latest technology to provide powerful strategies for finding or selling homes. The brokerage has offices servicing Sarasota, Manatee and Charlotte counties with over 250 sales professionals. To reach Chris Harrington, or for more information on Prudential Palms Realty, call 941-926-7000 or visit
www.prudentialpalmsrealty.com
.