The Kentwood Company Welcomes Award-Winning Team Dedicated to Excellence
Posted by Douglas E. Lierle — August 24, 2008
DENVER – (Aug. 25, 2008) –
Greg Margheim and Kelly Sophinos, a top-producing team of award-winning real estate professionals, have joined
The Kentwood Company
in the Denver Tech Center as broker associates. Margheim and Sophinos earned their real estate licenses in 2002 and 2003, respectively, and both are members the Denver Board of REALTORS® and National Association of REALTORS®. The dynamic REALTORS®, operating as Margheim/Sophinos LLC, currently serve the diverse real estate needs of clients in premier communities throughout Denver and the south suburban areas.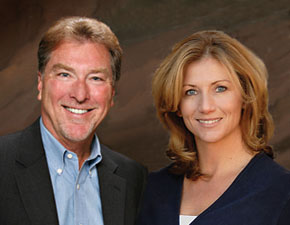 Greg and Kelly have garnered numerous awards throughout their careers. Greg won Rookie of the Year honors in 2003, and both have been recognized with Roundtable of Excellence awards from the Denver Board of REALTORS® each year since 2003. Greg's professional background includes 24 years of experience in the computer software/hardware consulting industry, and Kelly brings 25 years of experience in advertising, sales and marketing to The Kentwood Company.Greg earned his B.S. degree in Marketing and MBA degree from the University of Wyoming, and he is a member of the Greenwood Athletic Club and the Inverness Golf Club."Our primary focus in the real estate business is to provide exceptional customer service that transcends the mainstream and to pass along our knowledge of the Denver real estate market to our clients," said Margheim."We chose The Kentwood Company due to its outstanding reputation as the top real estate firm in metro Denver," adds Sophinos. "The Kentwood Company is committed to excellent customer service and is among the national leaders in the use of advanced technology. The company is also known for its expertise in the luxury home market."For more information on real estate services from Greg Margheim and Kelly Sophinos, contact Greg at 303-726-9471, email
gmargheim (at) kentwoodco.com
, and Kelly at 303-359-6836, email
ksophinos (at) kentwoodco.com
.The Kentwood Company is comprised of The Kentwood Company in the Denver Tech Center, The Kentwood Company at Cherry Creek, and Kentwood City Properties in downtown Denver. For more information, visit the leading real estate company online at
www.KentwoodRealEstate.com
.