Kentwood Associate's Home Featured in CNN Ads for Democratic National Convention
Posted by Douglas E. Lierle — August 20, 2008
DENVER – (Aug. 21, 2008) –
Patsy Brown, a leading broker associate with
The Kentwood Company
at Cherry Creek, is widely known for her real estate marketing expertise and vast knowledge of the greater Denver market. Now her home is gaining a little notoriety of its own. The
CNN
network recently chose Patsy's Denver home as a backdrop for the cable news channel's advertisements that will be running throughout August in conjunction with the Democratic National Convention (DNC) in Denver. How it all came about is both unusual and a bit flattering for Patsy as a homeowner.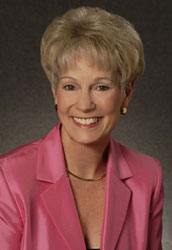 "I came home on July 15th to find a hand-written note under my front door mat," said Brown. "It said that CNN wanted to use my house as a backdrop for their DNC ads running through August. I called the number, and sure enough it was for real. The crew arrived that same day with a police escort and an entourage that included two white-paneled trucks, one Penske truck, and several crew members. Everyone said what a beautiful home I had, which was appointed at the time with a large American flag and several small flags in celebration of Independence Day. They set up lighting screens and three crew members filmed the scene and took still photography. When I asked one of the CNN crew members how they chose my house, it turned out that two of them used to live in the area and they simply drove by the house and liked the looks of it. The crew took a number of additional shots around downtown Denver which will be used as posters during the DNC."According to Brown, the CNN crew will be heading to Minnesota to do a similar shoot for the Republican National Convention. Those who watch television coverage of the DNC can look for a cream colored Bungalow with a CNN sign in front of it, which is Patsy's house.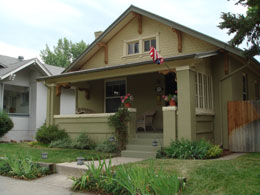 Patsy Brown earned her real estate license in 2003 and serves the diverse real estate needs of clients throughout Denver's most prestigious and historic neighborhoods. Patsy and her partner, Dan Eitemiller, were one of the company's top-producing sales teams in 2007. She holds special designations recognizing the successful completion of stringent continuing education courses in real estate. Prior to pursuing a career in real estate, Patsy was an elementary school teacher in both public and private schools. She was a Certified Gifted Ed Teacher and Certified Technology Director for grades K-8. She earned her B.S degree in Education from the University of Colorado.Patsy taught handicapped skiing at Winter Park's NSCD program (the largest in the world) for four years, and she was a Hospice Volunteer in Evergreen. She also enjoys golf and spending time with her three grandchildren. Patsy is active with the Membership & Admissions Committee at The University Club of Denver, in addition to various charitable golf tournaments and the 9News Health Fair.For more information on real estate services from Patsy Brown, phone 303-883-2495, or contact Patsy via email at
patsy (at) experiencedenver.com
.
ABOUT THE KENTWOOD COMPANIES
The Kentwood Companies is comprised of The Kentwood Company in the Denver Tech Center, The Kentwood Company at Cherry Creek, and Kentwood City Properties in downtown Denver. For more information, visit the leading real estate company online at
www.KentwoodRealEstate.com
.