Rising Real-Estate Team Joins Michael Saunders & Company
Posted by Tom Heatherman — August 7, 2008
SARASOTA, Fla. – (Aug. 8, 2008) –
The real estate team of Marc Rasmussen and Shayla Twit has joined the Main Street office of
Michael Saunders & Company
, it was announced this week from the company's headquarters in downtown Sarasota. Both were most recently associated with Sky Sotheby's International Realty and will team up with another former Sky Sotheby's associate,
Stacy Haas
, who has also joined Michael Saunders & Company as an associate in the company's Lakewood Ranch office.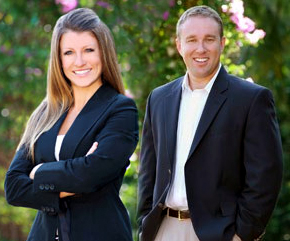 An honors graduate of the University of Florida with a degree in finance, Marc Rasmussen began his career in real estate in 2000 after working for several years as a retail futures/commodities broker for the Chicago Board of Trade. From 2000 until 2006, he was an associate with RE/MAX Properties, where he was consistently a member of the exclusive "Platinum Club," an honor bestowed on the company's top-producing agents. He joined Sky Sotheby's in 2006.Shayla Twit has been selling residential real estate in Sarasota and Manatee Counties since 2001. She began her real estate career at RE/MAX Properties where she consistently won awards for her top production. Her latest professional kudos is the Five Star/Best in Client Satisfaction Award for 2008 issued annually by Sarasota Magazine.Prior to entering the real estate industry, Twit worked in property insurance and has a property and casualty insurance license that assists her ably in advising clients of her team with regard to their homeowner and content insurance needs.The team of Rasmussen-Twit can be reached by contacting the Main Street office of Michael Saunders & Company at (941) 951-6660. Marc Rasmussen can be reached at his mobile number (941) 812-6272, or by email at
MarcRasmussen (at) michaelsaunders.com
. Shayla Twit can be reached at her mobile number (941) 544-7690, or by email at
ShaylaTwit (at) michaelsaunders.com
.
About Michael Saunders & Company
Now in its fourth decade of service to Southwest Florida, Michael Saunders & Company has grown from a single small office into a network of 16 full-service offices—with more than 500 professionally trained associates and 200 staff members. Powerful world-wide affiliations—including Leading Real Estate Companies of the World, Luxury Portfolio, Christie's Great Estates, the European Real Estate Network (EREN) and Mayfair International Realty extend the company's message to qualified buyers globally, ensuring the broadest possible exposure for our properties.Michael Saunders & Company is ranked as the 75th largest brokerage in the nation in the 2008 Power Broker Report compiled by RIS Media; and is included among the 35 most influential REALTORS® in luxury real estate in the United States.Customers of Michael Saunders & Company are assured of a comprehensive array of real estate services that will address every need and exceed all expectations. These services include commercial sales and leasing through the company's Commercial Division, along with mortgage loan origination and full title and closing services. MSC Mortgage provides a full array of mortgage products through its partner, Wells Fargo Home Mortgage; while the expert team at MSC Title includes title examiners, processors, and closers dedicated to building on the reputation of Michael Saunders & Company for unequalled service and solutions. Backed by the underwriting strength of First American Title and Chicago title, MSC Title provides peace of mind by assuring that a buyer's new property is free of liens and title defects. The award-winning MSC Relocation Division provides corporations with a wide range of relocation services to smooth the transition and assure immediate employee productivity in the new environment. MSC International offers buyers from around the globe the tools and instructive resources they need to make informed decisions and successful cross-border transactions.At Michael Saunders & Company, ours is a company-wide commitment to enrich the lives and culture of the communities we serve. Each year, the company makes significant contributions to more than 75 charitable, educational and cultural institutions throughout the region. These include Boys & Girls Clubs of Sarasota, Junior Achievement, Child Protection Center, The Dyslexia Foundation, Florida Studio Theater, Mote Marine Laboratory, Westcoast Black Theater Troupe, Manatee County Schools Foundation, Manatee Community College, University of South Florida Foundation, Education Foundation of Sarasota County, Marie Selby Botanical Gardens and the Community Foundation of Sarasota.For more information about Michael Saunders & Company, please call 1-888-552-5228 or visit us on the Web at
MichaelSaunders.com
.