Residential Real Estate Specialist from Geneva Joins Cora Bett Thomas Realty
Posted by Meg Albertson — August 6, 2008
SAVANNAH, Ga. – (Aug. 7, 2008) –
Real estate professional Sonja Bannon recently joined
Cora Bett Thomas Realty & Associates
as an associate broker. In her new position, Bannon represents clients in buying and selling distinctive property throughout the greater Savannah area.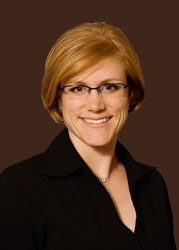 "We warmly welcome Sonja to our team of accomplished sales professionals," said Cora Bett Thomas, founder and CEO of Cora Bett Thomas Realty & Associates. "Her diverse background in residential sales and multi-unit investment real estate in the Savannah area will be advantageous to both our business and clients."Bannon is also bi-lingual in French and English. This is an amazing trait for an agent in the market at this time with European investors looking for property in the United States. Prior to joining Cora Bett Thomas Realty, Bannon worked as an agent with Judge Realty and Seabolt Brokers in Savannah."I am excited to be a part of Cora Bett Thomas Realty," Bannon said. "I enjoy listening to a client's needs and expectations of a house and then helping them find their perfect home."Originally from Geneva, Switzerland, Bannon has an Industrial Design degree from Art Center College of Art and Design in Pasadena, Calif. She has lived in Savannah for five years with her husband, William, who owns 2nd Chance Trains Hobby Store in Pooler. She and William enjoy ballroom dancing in their free time.
ABOUT CORA BETT THOMAS REALTY
With listings for the area's finest residential and commercial properties, Cora Bett Thomas Realty & Associates is an exclusive affiliate of Christie's Great Estates, Mayfair International Realty and a longtime member of
Who's Who in Luxury Real Estate
,
The Board of Regents
, Luxury Portfolio, Leading Real Estate Companies of the World (formerly RELO). The firm dominates the luxury real estate market along the Georgia and South Carolina coast, with offices based in Savannah, Ga. and Bluffton and Beaufort, S.C. Under the leadership of founder and CEO Cora Bett Thomas, the company features an expert team of agents who specialize in historic homes, luxury condominiums, commercial real estate, investment property, land and waterfront property. For additional information, please visit
www.CoraBettThomas.com
online or call 912.233.6000.