Expert Blogger to Share Lead-Generation Tips at Luxury Real Estate Fall Conference
Posted by Robert Lockard — August 6, 2008
SEATTLE – (Aug. 7, 2008) –
Jim Walberg, a 35-year REALTOR® who is well-known for his real-estate blogs on the San Francisco Bay Area and the Caribbean, will reveal how
LuxuryRealEstate.com
members can generate real-estate leads by implementing the rules and strategies of blogging. His presentation will be at the
13th Annual Luxury Real Estate Fall Conference
, which will be hosted in Philadelphia on October 11-14, 2008 at The Ritz-Carlton, Philadelphia.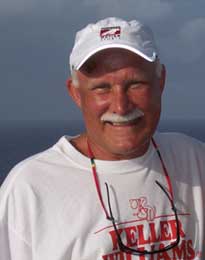 Two years ago, Walberg said he had a vision of a lead-generation Web site that could allow people to buy or sell properties anywhere in the world. He decided to start with the Caribbean, creating
www.CaribbeanIslandsRealty.com
."I have spent over 35 years in the Caribbean as a sailor and as a REALTOR®, so I know this region of the world very well," said Walberg, the 60-year-old co-owner/broker of
The Bay Area Team
, the most-successful team at Keller Williams Realty in Danville, Calif. "I never expected there would be any lead-generation results from my experiment. I was just experimenting. And after two years of blogging, it has been confirmed without a shadow of a doubt that my vision of creating an Internet system, which allows people from all over the world to participate in real estate, is possible."Walberg's blogging experiment has produced many positive results for his company. "One hundred percent of our Caribbean real-estate business is currently coming from inquiries from our blog site," he said. "We are receiving approximately six inquires each day from a total of 16 countries! Our
www.EastBayRealEstate.com
site has added over 10 percent to our revenue of our San Francisco Bay Area real-estate practice. Before blogging, all of our leads came from referrals, so this is a significant addition to our Bay Area business revenue."Unlike some professionals who guard their tricks of the trade to be successful, Walberg says that bloggers are remarkably open about their strategies for success. "Bloggers are the most open and sharing community I have found on the Internet," he said. "They want
every
blogger to win!" Walberg plans to share many of the keys to success in blogging with fellow luxury brokers and agents in a group discussion at the Luxury Real Estate Fall Conference.More than 300 LuxuryRealEstate.com members from around the world are expected to attend the conference.
Niurka
, a highly sought-after keynote speaker, consultant and peak-performance coach, will also speak at this event.For more information on the 13th Annual Luxury Real Estate Fall Conference, visit
www.luxuryrealestate.com/conference
.
About Jim Walberg
Jim Walberg has been a member of the East Bay business community since 1970. He and his wife Ann Marie are the owners of The Bay Area Team. He is a founding member of the International Luxury Real Estate Society, he has been inducted into the REALTORS® Hall of Fame for the East Bay, and he is ranked in the top 1 percent of REALTORS® nationally. He loves sailing in the Caribbean, traveling the world, collecting fine wines, reading, trout fishing and skiing. However, the most important part of his life is his personal faith, his loving wife and business partner, and their three children – all of whom are in college this year.
About LuxuryRealEstate.com
www.LuxuryRealEstate.com
is the most-viewed luxury real estate Web site in the world. The Who's Who in Luxury Real Estate network includes 1,813 of the world's finest real-estate companies with properties in 100 countries. Participation is strictly invitation-only by CEO/Publisher John Brian Losh. In Ultimate Homes' 2008 issue, the network represented more than twice the number of top 1,000 most-expensive properties in the country than any other network. The Who's Who in Luxury Real Estate network is governed by the
Board of Regents
.