Sierra Nevada's Popular Shinneyboo Creek Cabin Resort Hits the Market
Posted by Katie Shaffer — August 5, 2008
LAKE TAHOE, Nev. – (Aug. 6, 2008) –
A little piece of "slow travel" heaven is up for sale in the Sierra Nevada, as the founders of Shinneyboo Creek Cabin Resort recently put the multi-cabin property outside of Truckee on the market.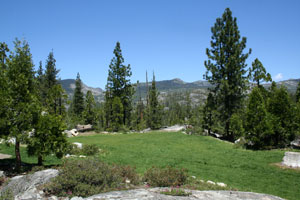 Squaw Valley local Mike Rogers and his wife Christine built the quaintly popular resort from the ground up on 160 acres and have personally run the property for the past five years. Mike, who has worked in the hospitality industry his entire life, affectionately compares Shinneyboo to the slow-food phenomenon, attributing its popularity to the relaxed atmosphere and serene surroundings."It's what Tahoe and Truckee used to be," Mike said. "It's an incredible location that allows people to truly connect with the land with an added touch of upscale coziness."The resort is surrounded on three sides by the Tahoe National Forest and is nestled in a wooden glen where Shinneyboo Creek and the South Yuba River meet. Grouse Lakes Recreation Area, the Pacific Crest and Old Emigrant Trails, as well as sparkling mountain lakes are close by. Emerald granite pools for swimming and lovely waterfalls are on or adjacent to the property.Eight cabins, each approximately 500 square feet and with a different layout, have a cast-iron gas fireplace, jetted tub and porch. A 2,000 square-foot, three-bedroom home with oversized kitchen, often used as a lodge, is also included along with ten tent cabins and a large Yurt.Shinneyboo is already living up to its potential as a mountain getaway with a legion of loyal guests and sold-out weekends. Mike, who notes that the resort is essentially too busy for him and his wife, believes the property is also ideal for large families who may want to purchase it as their own personal retreat."There are a lot of great options for the land and the cabins," Trinkie Watson,
Chase International
agent who is listing the property, said. "Either for personal use or to continue as a resort, the property can be a dream-come-true for someone."For more information about Shinneyboo Creek Cabin Resort, which is listed for $3.5 million, contact Chase International's Trinkie Watson at 800-582-0722 or email
twatson (at) chaseinternational.com
.
About Chase International
Headquartered in Lake Tahoe, Nevada since 1986, Chase International has eight offices in the region (Zephyr Cove, Glenbrook, Incline Village, Tahoe City, Squaw Valley, Truckee, South Lake Tahoe and Reno) and one in London. Chase and its exclusive affiliations handle a large share of the nation's property. Currently Chase International has one of the top five most expensive properties ever listed in the nation – Tranquility located at Lake Tahoe, for $100 million.With a staff of more than 140 professional REALTORS® boasting an array of industry certifications and the highest volume per sales agent in the area, Chase International successfully represents homes at all price levels. For more information about Chase International visit
www.chaseinternational.com
.