Harry Norman, Realtors® Sponsors "Free Concerts in the Park" Series
Posted by Alisa Bennett-Hart — August 5, 2008
ATLANTA – (Aug. 6, 2008) –
Harry Norman, Realtors®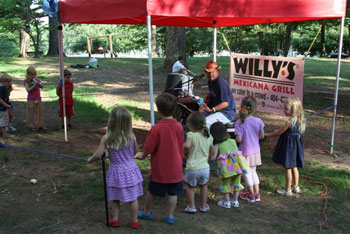 and Robin Conklin, Buckhead/Northwest office sales associate, are presenting sponsors of Chastain Chill – free concerts in the park series. Every Tuesday from now until October, barring inclement weather, Jay Memory of The Memory Dean Band will give a free concert at the Chastain Park playground from 5 p.m. – 8 p.m. Families are invited to bring a picnic and blanket and come chill at Chastain Park.Willy's Mexicana Grill, on Roswell Road near Wieuca, will deliver food to the park playground if the order is placed by 6 pm. Call Willy's at 404-252-2235 to place order.
About Harry Norman, Realtors®
Founded in 1930, Harry Norman, Realtors® is Atlanta's oldest residential real estate firm with 20 offices and over 1,000 sales associates. Harry Norman, Realtors® is a wholly-owned subsidiary of HomeServices of America, Inc., a Berkshire Hathaway affiliate. HomeServices is the second-largest full-service independent residential real estate brokerage firm in the U.S. Through its affiliation with HomeServices of America, Harry Norman, Realtors® is part of a real estate family of 20,000 sales associates spanning 19 states. Harry Norman, Realtors® also achieves international exposure through membership in such exclusive real estate networks as Leading Real Estate Companies of the World the largest network of independent residential real estate firms, with 650 members representing 4,700 office and 120,000 associates across the U.S. and in over 20 countries. For additional information, visit
www.harrynorman.com
.