Noteworthy Sale Leaves Just One More Penthouse Available At New Longboat Key Community
Posted by Tom Heatherman — July 31, 2008
SARASOTA, Fla. – (Aug. 1, 2008) –
Only one pre-construction penthouse, the "Sapphire South" remains to be sold at Bleu Claire, the ultra-luxurious condominium which will occupy a spectacular gulf front setting at 4765 Gulf of Mexico Drive, on Longboat Key. Its magnificent top-floor counterpart—the "Sapphire North" penthouse—has just been placed under contract, it was announced today by Gail Wittig and Ian Addy, exclusive sales representatives for the new community. Listed for $5 million, the penthouse—with 4,709 square feet of interior living space, flanked by another 2,807 square feet of wrap-around terrace—is being purchased by current residents of Longboat Key who plan to occupy the residence upon its completion. The Addy & Wittig team consists of associates in the Longboat Key South office of
Michael Saunders & Company
, which houses the Bleu Claire sales center.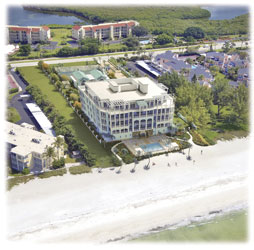 "The new owners were attracted to the community for a number of very specific reasons," said Randy Moore, managing partner of Atlanta-based Crossgate Partners, Bleu Claire's developer. "Not the least of these was the unique ability to fully customize their own floor plan almost as if they were building their own luxury beachfront home—minus the headaches, of course, and most of the maintenance. As such, they have the ability to move walls, modify the kitchen, enlarge the dining room and add a media room, among other things, should they so desire. As well, they will enjoy all the on-site benefits of the building's full array of amenities and its 'green' design and construction."By "green design and construction" Moore was referring to the highest environmental standards—set forth by the Florida Green Building Coalition—which when fully integrated into the design and construction of the new waterfront community will earn it the important "Green" certification. "Going Green" not only helps preserve and protect the natural beauty of the community's surrounding environment, but also provides long term health benefits, significant cost savings and higher property values for the residents. Green design has many other important benefits as well. Among other things, it reduces water usage by up to 50%, reduces unhealthy indoor contaminants, improves overall air quality, and is 25 to 30 percent more energy efficient through enhanced insulation, high impact, high-rated glass windows, and improved heating and cooling systems."Bleu Claire is one of the precious few remaining opportunities to purchase new construction on the beach," said Gail Wittig who, along with business partner Ian Addy, facilitated the sale on behalf of Michael Saunders & Company for the developer. "Plus, you have the rare and exciting opportunity of creating your own floor plan within the condominium's existing footprint at no extra charge."In addition to the breathtaking views that residents of Bleu Claire will enjoy from their oversized terraces, they will be able to take advantage of numerous amenities, including a beachside heated swimming pool and spa, sunning terrace and private pool cabanas. The beautifully designed clubhouse features a luxurious social room equipped with a gas fireplace and catering kitchen overlooking the professionally detailed garden area and championship Har-Tru® tennis court. In addition, there's a fully equipped fitness pavilion with private dressing areas.The building, designed by award-winning architectural firm ASD, of Tampa, includes a huge array of distinctive features, including privately enclosed two-car garages (three-car garage for each penthouse) with direct access to private elevators that access the private elevator lobby in each residence. Ceilings are ten-plus feet high (11-plus feet in the penthouse); gourmet kitchens feature European-style cabinetry and premium stainless appliances—including a six-burner Wolf gas range and Sub Zero refrigerator; and the outdoor terrace includes a built-in gas grill, vented hood, stainless steel sink and under-the-counter refrigerator.For more information about the remaining penthouse and other residential opportunities at Bleu Claire, contact Gail Wittig or Ian Addy in the Longboat Key office of Michael Saunders & Company at (941) 387-0100 or (941) 744-7441; or by email at
GailWittig at michaelsaunders.com
, or
IanAddy at michaelsaunders.com
.