Pacific Union GMAC Real Estate Dominates Market Share in Napa Valley for 2008
Posted by Karen Monroe — July 28, 2008
$1 Million Plus Residential Sales More Than Double Those of Other Firms
SAN FRANCISCO – (July 29, 2008) –
It's all in the numbers, and based on recent sales statistics from BrokerMetrics, the Napa Valley offices of
Pacific Union GMAC Real Estate
are dominating the market share in the million-dollar-plus category of residential real estate for 2008. Pacific Union sales of single family residences is more than double that of other brokerages for the same time period in Napa County.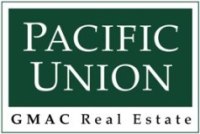 "I applaud the outstanding efforts of our entire team and am proud of Pacific Union's dominance in the market this year," said Heidi Rickerd-Rizzo, VP and branch manager of Pacific Union's downtown Napa and St. Helena offices. "We have worked very hard to make this happen, and these numbers really show what we've done."Pacific Union enjoyed a 117% jump in Napa sales pended in June 2008 compared to those a year ago. With 116% more buyers than the closest competitor in the region, Pacific Union's impressive results have literally made the market happen.Pacific Union has a long and successful history in the Valley. The firm's commitment to the community is reflected in its affiliation and support of Meadowood Resort, Napa Valley Grape Growers Assoc., The Napa Valley Land Trust, Napa Valley Opera House, The Boys and Girls Club and The Cameo Theater among others.  Pacific Union sales professionals are among the best and most experienced in the business, and are ready to assist buyers and sellers realize their wine country dream, investment goals, or personal real estate objectives.
Pacific Union GMAC Real Estate
Since 1975, Pacific Union GMAC Real Estate has thoughtfully matched generations of buyers and sellers throughout the entire Bay Area. Pacific Union GMAC focuses on delivering outstanding quality and unparalleled service to a full spectrum of discerning clients. Pacific Union GMAC is the only firm in California to receive a distinguished four star International Property Award in association with CNBC Europe and the London Daily Mirror for superior marketing materials and client services in the luxury marketplace. A premier, locally managed brokerage with knowledgeable, experienced real estate professionals, Pacific Union GMAC takes a leading edge to new technology applications designed to enhance the client experience. Pacific Union is a GMAC Home Services company. For more information, visit
www.pacunion.com
.