Living Legend Joins Beacham & Company, REALTORS®
Posted by Dac Carver — July 24, 2008
ATLANTA – (July 25, 2008) –
Sally George has joined
Beacham & Company, REALTORS®
as senior sales associate.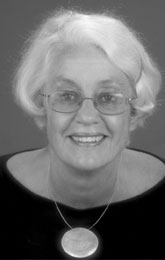 Ms. George comes to Beacham & Company from the Buckhead office of Harry Norman, Realtors®, where she was a top agent for more than 20 years. Among her many professional accomplishments, she is a Life Member of the Atlanta Board of Realtors Million Dollar Club and a Crystal Phoenix Award recipient for achieving more than $1 million in annual sales volume for 20 consecutive years.In addition to being a top-producing agent, Ms. George is a well-known philanthropist and community activist who serves in a number of capacities for some of Atlanta's most deserving charities. She is a board member of Genesis, a shelter for newborns and their families, and a 26-year volunteer in various capacities at St. Lukes' Crossroads Community Soup Kitchen.She is also on the board of the Atlanta Chamber Players-Soiree Series and a member of the Atlanta Junior League, Colonial Dames of America, Atlanta Historical Society, Georgia Trust for Historic Preservation, the High Museum of Art, and All Saints' Episcopal Church.Beacham & Company founder Glennis Beacham called Ms. George "a treasure," and "someone who brings laughter and joy to the world.""We are very honored to have Sally be a part of this company," Beacham said. "In many ways, she represents the essential spirit of Beacham & Company. She is full of positive energy and good humor, two characteristics we feel have been instrumental in the success of our firm."George is a Virginia native and a graduate of Hollins College where she earned a degree in Mathematics. She and her husband, Walter, reside in Ansley Park.
About Beacham & Company, REALTORS®
Beacham & Company, REALTORS® is a boutique real estate company specializing in luxury real estate. The company was founded in 2006 by Glennis Beacham, one of Atlanta's most celebrated real estate agents over the last 15 years. The firm has the highest average sales price of any general brokerage company in metro Atlanta at $1.9 million and is the top selling office in Buckhead by dollar volume of homes sold for more than $750,000. For more information about Beacham & Company, go to
www.beacham.com
or call 404.261.6300.