Respected Agent Joins Daniel Gale Sotheby's International Realty
Posted by Kathleen Caputi — July 10, 2008
HUNTINGTON, N.Y. – (July 11, 2008) –
Real estate broker Evelyn Comer recently joined the Shelter Island office of
Daniel Gale Sotheby's International Realty
. Daniel Gale Sotheby's, one of the nation's leading realtors, has offices throughout Long Island.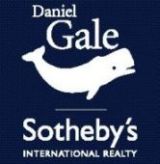 "Evelyn's sophisticated knowledge of Shelter Island and Nassau County, and her sensitivity to the needs of today's homeowner will be instrumental in helping us build our Shelter Island office and continue to expand our presence on eastern Long Island," said Carol Tintle, Senior Vice President and Regional Manager, Daniel Gale Sotheby International Realty.Widely respected for her professionalism and honesty, Ms. Comer previously enjoyed a distinguished career in public service, serving as Senior Research Analyst to the Nassau County Board of Supervisors; Executive Assistant to the Town of Hempstead; Liaison to the Office of Women's Services for the Town of Hempstead, and Senior Administrator to the President of Nassau Community College.Ms. Comer's connection to Shelter Island is both personal and professional. After spending many vacations and weekends on the Island, she has recently relocated from East Meadow in Nassau County to become a full-time resident. "I am thrilled to have the opportunity to represent a place that has been my passion for so many years, and pleased to be associated with Daniel Gale Sotheby's," remarked Ms. Comer. "Not only is Daniel Gale Sotheby's marketing expertise second to none, the level of professionalism and integrity is unparalleled."Founded in 1922, Daniel Gale Sotheby's International Realty consistently leads the nation in achieving one of the highest average sales prices in the country. It is a $2.5 billion organization with more than 600 sales associates in 27 offices and divisions. Daniel Gale Sotheby's International Realty offices span Long Island. Services include an award-winning Relocation Center, a New Homes division, a Condominium Group, a Commercial Division; Ambassador Abstract, a full-service title company, and a Wells Fargo Mortgage affiliation. Daniel Gale Real Estate has been the exclusive Sotheby's International Realty® affiliate for Long Island's North Shore since 1976. Over the course of this relationship, Daniel Gale Sotheby's International Realty has gained exceptional national and international recognition, including taking top honors worldwide for the past several years.Daniel Gale Sotheby's International Realty is also a member of Residence, The Registry, and is on the
Luxury Real Estate
Board of Regents
, a global network of leading real estate companies. More information may be obtained at
www.danielgale.com
.