The Land of Smiles—named as such in terms of dental tourism and how happy its citizens and tourists get by simply being there—is home to everything you need for a tropical getaway or escapade. Some might even wish to live there altogether.
With that in mind, let's discuss the ins and outs of how to buy luxury property for sale in Thailand.
Find the Right Location for a Villa Home
First off, choose the right location for your villa or new residence. You can choose from the bustling capital of Thailand, Bangkok, to a high-potential tropical paradise of Koh Samui or Phuket. It depends on which slice of paradise you wish to take a bite from.
Do you wish to enjoy the metropolitan life or do you instead want to relax on the beach every day in resort-like settings? Some might even outright buy resorts if they have the money!
Choose the Right Option for Villa Ownership
Now choose how you're going to get the villa or property as a non-Thailand citizen. Thai citizens get to buy and sell homes to each other the way you would in your country. However, as a non-citizen, you need to follow these rules or steps.
Why? It's because Thai property laws forbid foreigners to directly buy property in their name. They have to do the following:
A 30-Year Lease on Your Home: You can lease out a Thai home for 30 years then renew. Such a lease can be renewed twice. Therefore, they're also known as "30+30+30" leases. You can lease out a Thai home for 90 years in theory.

Invest Money in Thailand for Property Ownership: Bring money to invest in this Southeast Asian kingdom. Offer about 40 million Baht at least, which amounts to about $1,115,000 at the time of this writing.

Set Up a Limited Company That's at Least 51 Percent Thai-Owned: A more-than-half Thai-owned limited company can buy the property on your behalf. It's the preferred tactic to buy a luxury family villa, but to be on the safe side make your company 51-percent owned by Thai citizens.

Marry a Thai National to Buy Thai Property: A foreigner can technically buy property by marrying a Thai husband or wife then putting the name of property under their name so as to legally own the property as a couple.
Now let's discuss your property options. We've rounded up some quality villas for you to peruse and consider.
1. Stunning 6 Bed Ocean View residence in Choeng Mon
The outstanding island home in Choeng Mon might intrigue you because of its many architectural features such as its peaceful indoor water features and stunning spiral staircase.
It's not only a resort-tier showroom showcase with 6 bedrooms and 6 bathrooms. It's also filled with your requisite stunning panoramas of the ocean that complements the palatial look of the place.
Feel like a king in this villa with loads of amenities such as car parking, private wine cellar, spacious rooftop terrace, private pool, gym and fitness room, private cinema room, and a fully fitted western kitchen. You'll wine and dine like a king too.
How can this Chanote Title villa fit all of this? It's because it has a building size of 2,010 square meters and a land size of 1,776 square meters. It's definitely a good place to start as far as Thailand properties are concerned.
2. Ultra-Luxury Headland Villas at Cape Yamu, Phuket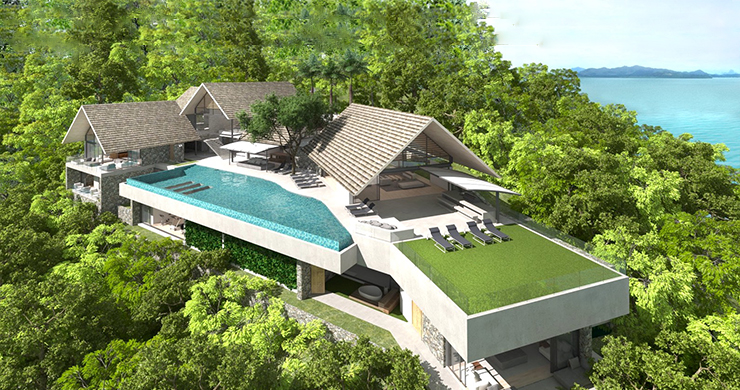 You're in for a treat with this Chanote Title. The ultra-luxury Headland Villas of Cape Yamu enjoys professional maintenance all-year-round. Everything is cleaned and every stock is filled for each estate and resident owner.
The Property Management Services include pool cleaning and maintenance, full landscaping, gutter cleaning, and exterior window/screen cleaning and shutter care. You'll need such services to take care of the huge infinity-edge swimming pool.
It even comes with expansive private sun-terraces, fully finished architectural design and fully furnished villas to the highest level, pitched cedar roof pavilions, and state-of-the-art smart technology for all its electronics.
The 4-6 bedrooms villas also have standard panoramic ocean views of Cape Yamu, the most prime and prestigious headland and beachside locations on the exclusive west coast, and customizable plans and designs.
The Freehold or Leasehold ownership villas range from 2,000 to 2,500 square meters of villa size and 4,205 to 5,846 square meters of land size.
3. Palatial 5 Bedroom Sea view Villa on Chaweng Noi Peak
Here's another palatial Thailand property in Chaweng Noi to check out. It's a 5-bedroom and 6-bathroom villa with a spectacular 360° view of Chaweng Bay. The prime land set back from the ocean is also set over three stories of living space for good measure.
The villa with a 2-bedroom apartment on the lower level boasts impeccable construction and finishes, fully furnished rooms with gorgeous sea views, contemporary chic interior design, and ultra-modern architecture.
There are also glass balustrades on the balconies, wall-to-wall sliding glass doors, and oversized ceilings. You'll get to enjoy things such as a fully equipped designer kitchen, sunken pool-sala seating area, massage sala, and separate spa.
This treasure trove of a villa also contains 24-hour security protection via CCTV, a private pool table area, a private courtyard and pond, and private double carport for parking. This on top of giant granite boulders across a beautifully manicured garden.
4. Exceptional 6 Bed Designer Sea View Villa in Bophut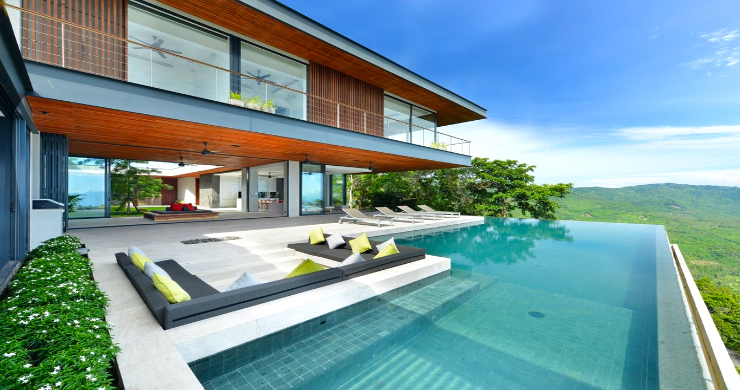 Right off the bat, you'll have quite a lot to enjoy with this property inside a safe gated community. It has a land size of 1,845 square meters and a building size of 1,400 square meters, so the property makes the most of its optimized space.
The key features of the 6-bedroom, 7-bathroom designer villa in Bophut includes a recreational area, private staff quarters, cinema room and home theater, patio garden with lounge, gym and fitness center, and a fully fitted kitchen.
You'll also be treated with ocean-view panoramas galore. You can view movies or play video games in the most cinematic of setups. You can also prepare feasts through the kitchen and dining rooms. Even the staff has fully detached accommodations as well.
Finally, the villa seamlessly and organically integrates itself with nature and greenery to give everything a naturalistic feel when push comes to shove.
5. Magnificent 5-Bed Luxury Beachfront Villa in Chaweng
The spectacular ultra-luxury beachfront property for sale in Chaweng in Koh Samui lives up to its 'ultra-luxury' label by offering spectacular ocean views, a prime beachfront location, unmatched premium furnishings, and a quality U-shaped architecture that's quite lavish.
The highly unique freehold tenure Chanote title property would make an impressive holiday home or a super-prime villa investment depending on what you want out of it.
The piece of real estate has a building size of 700 square meters and a land size of 872 square meters. The deluxe 5-bedroom and 6-bathroom villa is even positioned only a few hundred meters away from the beach.
If you'd rather indulge yourself in the tropics in a private manner, the villa has a huge oceanfront swimming pool as well.
You'll be spoiled with choices from inside and outside the villa and its modern tropical design. Aside from the sleek designer kitchen and the expansive terrace and sundeck, you can also get an outdoor sofa seating area and elegant en-suite bathrooms.
It also comes with community features like a cinema room, fitness/gym room, steam or massage room, children's playroom, and 24-hour uniformed security.
6. Banyan Residences 6 Bedroom Luxury Villa In Hua Hin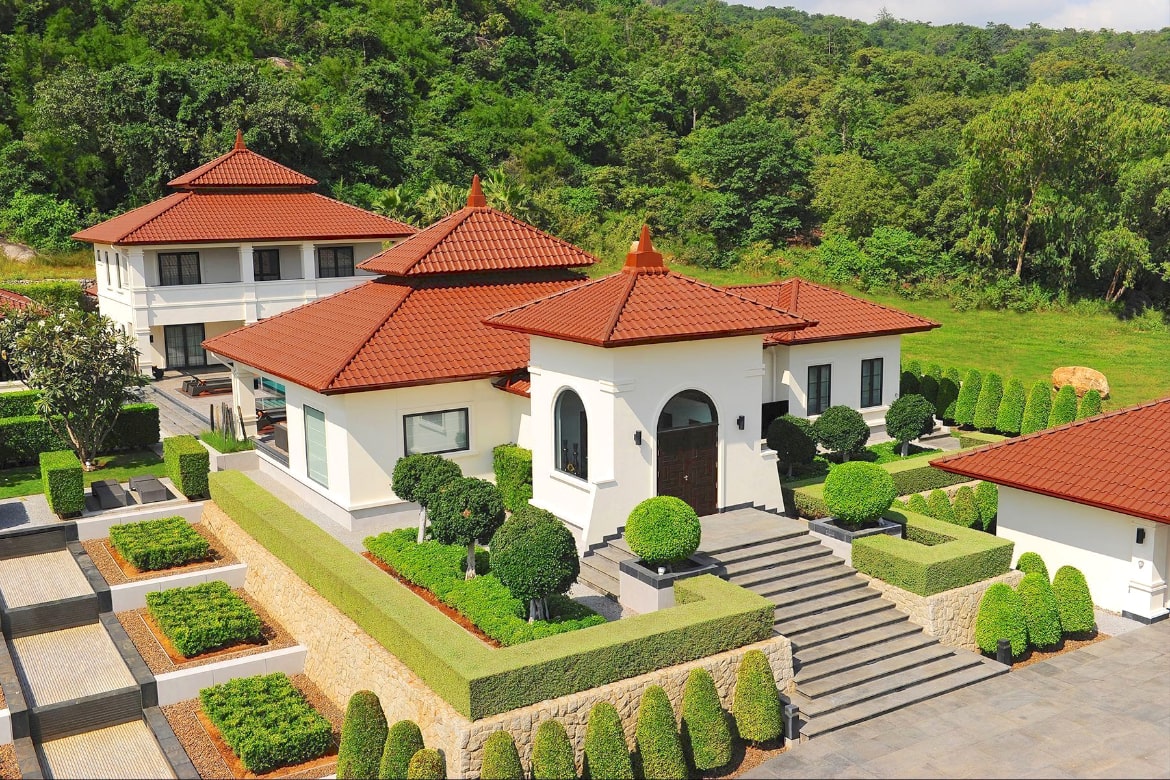 If you were the owner of Banyan Residences in Hua Hin, you have the chance to customize the property based on your own tastes. You can purchase at an extra cost (or not) things like tropical landscaping, spa and fitness, sauna, and fully fitted European-style kitchen.
The villa comes with world-class amenities as well, which includes the reception area, clubhouse, communal pool, and the spa & fitness center. The deluxe villa can be purchased as freehold and fully customized to high specification standards.
It's also 15 minutes away to Hua Hin City, 20 minutes away from Hua Hin Airport, 10 minutes from Bluport Hua Hin, and 2 hours away by car to Bangkok.
In terms of project facilities, you can avail of things like 5 golf courses, spa/massage, shuttle service, communal gardens, a fitness center, and concierge service shared among 102 villas. To get viewings, you need to make a private appointment.
7. Ultra-Luxury Beachfront 4 Bed Villa on Plai Laem Bay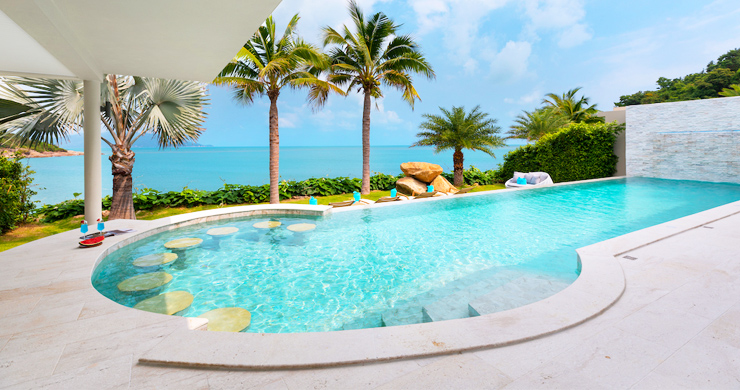 The ultra-luxury beachfront villa on Plai Laem Bay is part of this collection's ultra-luxury collection. It earns the moniker with its 4 spacious bedroom suits found on the upper and middle levels. It also has elegant en-suite bathrooms to boot.
The spectacular sea views are to be expected from such a bayside villa and you have private sun terraces available to allow you to indulge on such views. This villa has been built to offer you true luxury living in a prestigious 5-star resort neighborhood.
What this means is that the idyllic freehold tenure location comes complete with amenities and furnishings like A/C and ceiling fans, key-card entrance, 24-hour uniformed security, and a secure gated estate.
It also has a maid's room, a storage room, a private double garage port, landscaped gardens complete with hammock, built-in Jacuzzi, sala, and poor bar. What's not to love?
8. Magnificent 5-Bed Luxury Beachfront Villa in Pattaya
As for the magnificent luxury beachfront villa in Pattaya, the magnificent thing about it is that every ultra-luxury standard furnishing covered but it also has little eccentricities that make it stand out, like its 2 entrances from the front and rear or its ample covered parking spaces.
The property spreads its wings across 4 stories with a modern and chic architectural design that contains 2 swimming pools—the rooftop one overlooking the gorgeous Pattaya sea and the even more oceanfront infinity pool at ground level.
Everything about this villa showcases magnificence, such as its high-spec fittings and furnishings or its open plan living and dining as well as its private fitness center. You'll feel like you've stepped into a Good Housekeeping magazine photo shoot with its showroom showcase furniture and appliances.
All this on top of a full security system, private library room, 2 separate maid rooms, and garage parking!
9. Iconic Minimal 4-Bed Luxury Villa for Sale in Chiang Mai
In terms of villa specifications, you will not be left wanting by this iconic luxury villa in Chiang Mai. It's giving even the luxury villas on this list a run for their money!
It's furnished with amenities and features galore such as fiber-optic high-speed Internet, an electric stove system, secret room for a private office, TV room with hideaway partition, plus Buddha & Storage room.
The 4-bedroom villa has installed curtains, LAN system, and built-in furniture in every room. The building is made with Engineering Wood and its foundation can withstand a 6 to 8 magnitude earthquake on the Richter scale.
There are also mosquito nets on every room, electric motor curtains, laundry room, underground wiring, and set-off timer system. It even has an installed termite control system to boot.
10. The Ritz Carlton Ultra Luxury Sky Residence Bangkok
Last but not least is the Ritz Carlton residence in Bangkok. If groovy beachside living isn't for you, Thailand also offers the best that money can buy in terms of a metropolitan or condominium way of life. Prepare to hustle and bustle your way to great success!
If you can afford it, you can also avail of a ritzy 10-bedroom, 12-bathroom condominium through freehold tenure or Chanote title. The condo measures 1,152 square meters. It offers private parking spaces and smart design functions on top of A/C and fans to keep you cool from within.
You can also enjoy features and amenities like 24-hour concierge services, housekeeping and spa services, a fully equipped western kitchen, luxury built-in furnishings, and built-in brand-name appliances like the coffeemaker, microwave, and oven.
Conclusion
Thailand is one of the most gorgeous, exotic places you could ever visit in Southeast Asia. It's full of things like history, culture, a balmy tropical weather, and the most happening nightlife around. As far as tourists are concerned, it's paradise on earth.
In order to buy luxury property for sale in Thailand as a foreigner or non-citizen, you need some sort of proxy, like a company or a leasehold contract for a set number of years to get it. You might also have it under the name of a Thai spouse.
Visit Conrad Properties to see more luxury properties for sale in Thailand.