Koh Samui has always been a preferred holiday hotspot destination for international travellers. Koh Samui has recently transformed to become a key real estate market for property developers seeking opportunities to build luxury resorts, restaurants, and hotels for upscale clientele.
Here are some of the most appealing beachfront villas for sale on Koh Samui: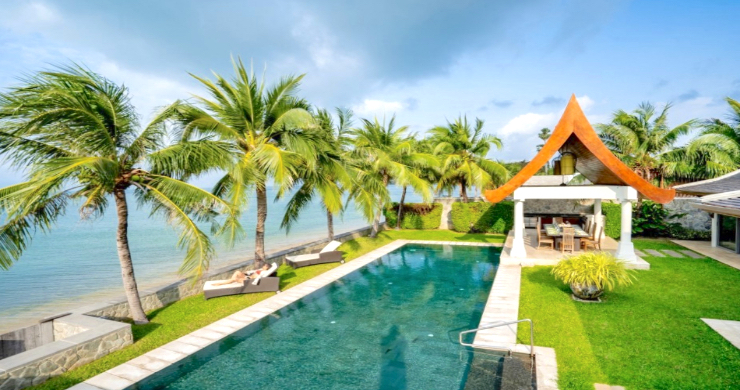 1) Ultra-Luxury Beachfront Villas for Sale in Maenam
A unqiue investment opportunity to own 2 ultra-luxury Beachfront villas for sale in Koh Samui. This pair of idyllic beach villas are placed adjacent to each other, with a 50 meter prime beach frontage situated directly on the pristine Maenam soft white sandy beach.

The interiors feature the highest quality bespoke furnishing and finishing, with oversized exposed-wooden ceilings. The properties also feature world-class faculties and amenities, including a dedicated fully-equipped gymnasium/ fitness center. This makes a unique investment opportunity, with unparalleled quality of design, situated on a super-prime and private beachfront location.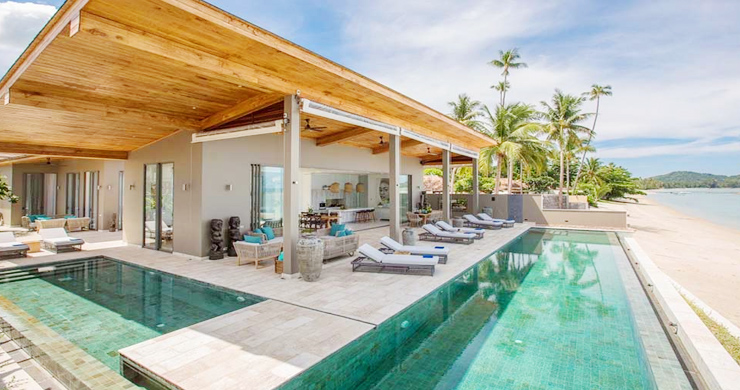 2) Contemporary 6 Bedroom Beach Front Villa in Laem Sor
With six sumptuous bedroom suites, seven bathrooms, and 24 metres of beachfront, this villa in Laem Sor is a stunning property for a family looking for ample space within a tranquil setting.
This luxurious beachfront property boasts lofty ceilings, a grand dining table, and huge floor-to-ceiling glass sliding doors that make it appear even more spacious than it is. It also has a 21-metre infinity swimming pool by the beach and a shaded children's pool surrounded by tall palm trees.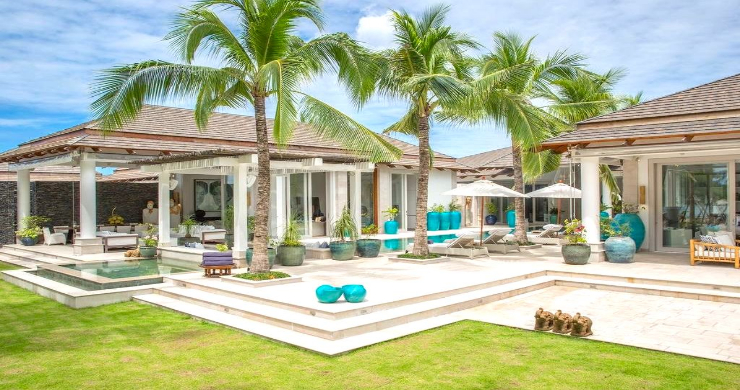 3) Magnificent 5-Bed Luxury Beachfront Villa in Chaweng
The 5-Bedroom Luxury Beachfront Villa in Chaweng is a spectacular beachfront property from a Freehold tenure Chanote title. It's an ultra-luxury resort-like villa, more to the point. It's complete with quality amenities and all the shops are nearby. To be more specific, every need of yours is fulfilled with the community features such as a cinema room, fitness or gym room, massage and steam room, and children's playroom area. It even has a private and premium location matched only by a few other villas.

Moreover, it's nestled only a few hundred meters away or walking distance from the Chaweng Beach. Aside from easy beach access, the uniquely chic property makes for a vacation or holiday villa and a super-prime investment when push comes to shove. It won't take long for you to see things to love in this villa, such as its 5 bedrooms and 6 bathrooms so that everyone staying there can go to the john without preamble or waiting times. It also has a sleek white designer kitchen for your dining needs, A/C and ceiling fans, high-spec furnishings or decors with exquisite wooden craftsmanship, a single-story U- shaped architecture for your building, and a pool. The villa also comes with the requisite colorful landscaped gardens, private parking for all your cars, elegant en-suite bathrooms, an outdoor sofa seating area for you to lounge at, a covered al fresco dining area, and the wide sundeck and terrace. Not bad for a property with a land size of 872 square meters and 700 square meters, right?
4) Beachfront 7 Bed Villa on Peaceful Laem Sor Beach​
This spectacular 7-bedroom beachfront home is located on Laem Sor beach and comprises three pavilions: a main one with two floors and two bungalows.
On the top level of the main pavilion, are three ensuite bedrooms, each opening onto a terrace with breathtaking views of the ocean. In addition, there is a spacious kitchen, a dining room, two lounge areas, and a storage room. A well-equipped kitchen with high-quality appliances is located on the ground level. There is also a secondary lounge or library
The garden bungalow features two ensuite bedrooms. The smaller pavilion or beach cottage is just steps from the beach and functions as a'mini-villa,' with two ensuite bedrooms.
A key highlight of this stylish property is the huge beachfront infinity-edged swimming pool. This modern villa also offers 27 meters of ipristine beachfront, and is just a short drive from Lamai Beach.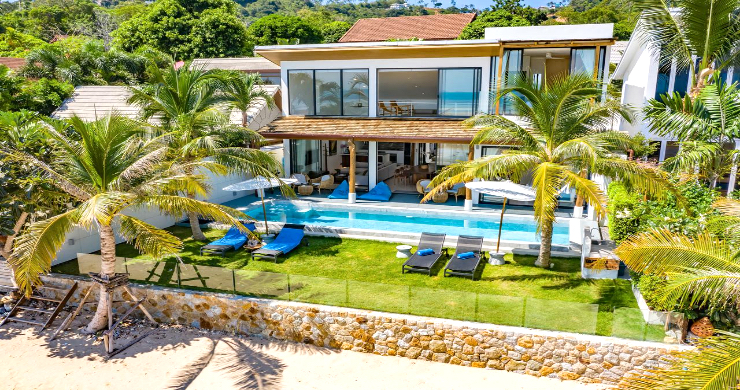 5) Contemporary 5 Bedroom Beachfront Villa in Bang Por​
This contemporary Koh Samui beachfront villa is situated on a quiet beach in Bang Por amid tropical gardens. This magnificent property has four spacious luxury suites, each with an en-suite bathroom. It also boasts a grilling area, and terraces in the inner courtyard. A spiral 'floating' staircase leads to the Master 'Penthouse' suite, which spans the whole top floor.
With a large private pool and four sun terraces, along with access to a residents-only tropical garden area near the beach, this is the ideal tropical hideaway..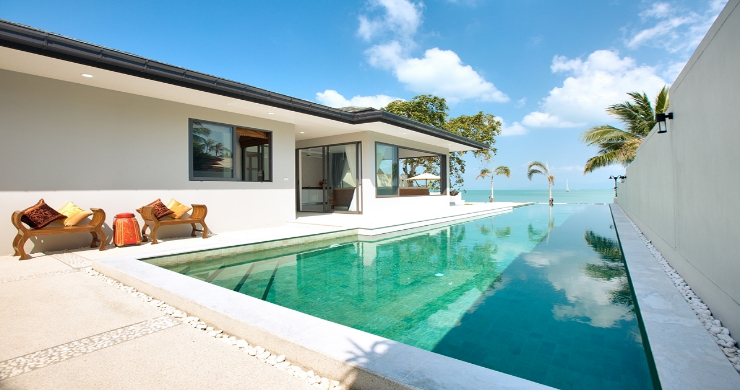 6) Beautiful 7 Bed Beachfront Luxury Villa in Bangrak
This Luxury Beachfront Villa for sale in Koh Samui is situated in a prime position in the middle of the beautiful Bangrak bay. The property comprises of 7 bedrooms and 7 bathrooms with a total of 6 pavilions. The main 2 story pavilion at the backside houses 4 bedrooms, with a 2 bedroom villa in-front and a 1 bedroom villa at the oceanfront. There is also a separate pavilion for the large living/dining area.

Overall this Luxury Beachfront Property for sale is available to purchase freehold, fully furnished & decorated throughout, located in a highly exclusive and convenient prime beachfront position. The property also has a successful rental history and is ideal for investment.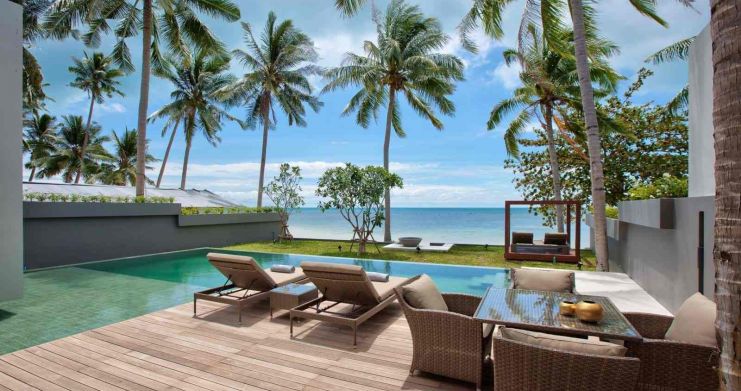 7) Ultimate Beachfront 3 Bed Luxury Pool Villas in Samui​
This spectacular complex of 3 bedroom villas is located on Laim Noi beach. The 7 villas each include three double bedrooms with en-suite bathrooms, as well as contemporary Asian style furnishings and design. They have large terraces and Salas.
It also boasts a large swimming pool, outside deck, and a European kitchen. Enjoy breathtaking views of the ocean and sunset in an undeniably luxurious villa. This property sits in a secure, gated neighbourhood with full concierge as well as facilities management services.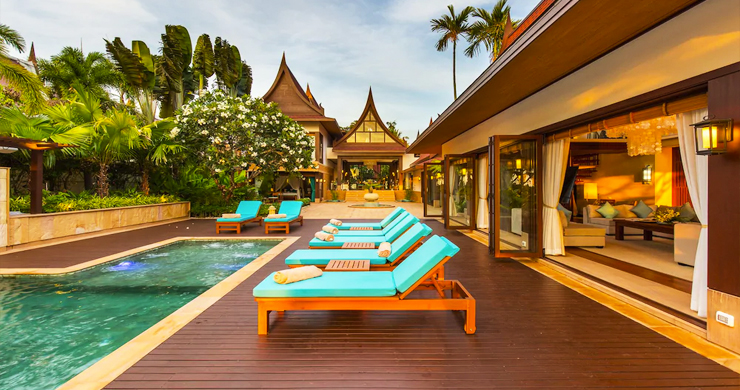 8) Gorgeous 5 Bed Tropical Beachfront Villa in Lipa Noi
This Thai-style luxury residence exudes opulent tropical living. It nestles in a quiet bay on Koh Samui's west coast, surrounded lush tropical scenery. It's ideal for those seeking quietude and natural beauty.
The villa is mostly made of natural sandstone and tropical wood. There are five sumptuous en-suite bedrooms, an infinity pool, and direct access to Lipa Noi beach.
The five tastefully furnished bedrooms have air conditioning, private safe, teak furniture, silk drapes, and three of them have their own closets as well as large bathrooms.
It also boasts a swimming pool, a large outdoor Jacuzzi, a beach bar with a massage area, and private covered parking. A gym, steam room, and sauna are available on-site.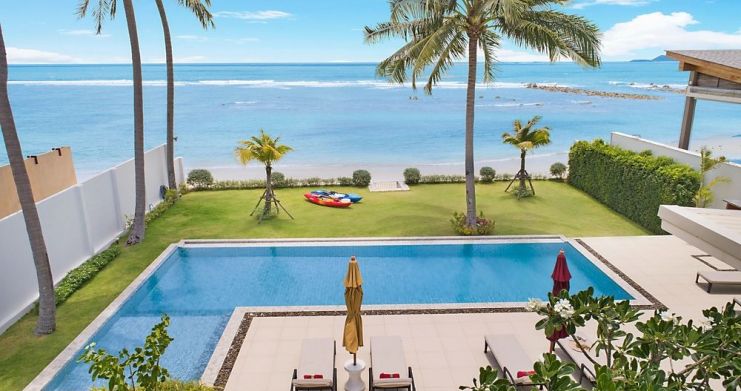 9) Stunning 4 Bedroom Beachfront Retreat in Laem Sor
This appealing Koh Samui property is located on prime beachfront land beside the unspoilt Laem Sor Beach. It has four en suite bedrooms — two of which can be used as family rooms with twin beds and bunk beds — and four bathrooms, making an ideal family residence.
It has vibrant decor that seamlessly blends modern luxury living with an unrestricted view of nature. Stunning ocean views are enjoyed from each of the bedrooms. The main lounge and dining area are located in a separate enclosed pavilion. The lounge has comfortable sofa seating, and -high ceilings.
The 80-square-metre pool, spacious gardens BBQ grill, and bar make it perfect for al fresco entertaining. There is also a fully equipped modern kitchen and private parking.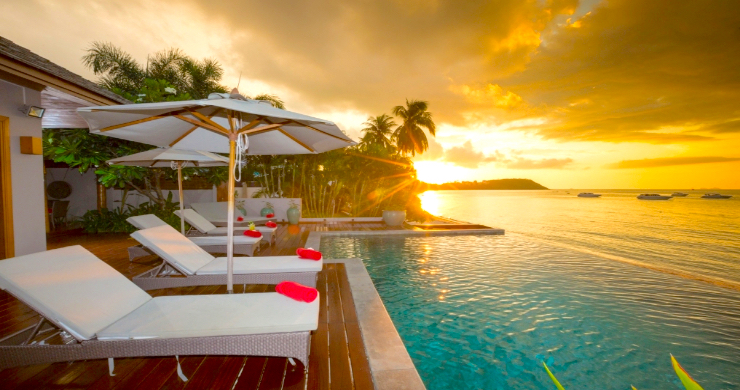 10) Beautiful 3 Bedroom Beachfront Pool Villa in Bangrak
The 3-Bedroom Beachfront Pool Villa in Bangrak is a location characterized by swathes of jade and gold or blue and yellow. It has a country club feel to it from the get go, thus making it a worthwhile purchase without needing extra expenses in rebuilding it. Every prime villa has something unique to it. In this Chanote title villa's case, is its modern touches on a mostly tropical themed mansion with a building size of 350 square meters and an overall property size of 584 square meters. Naturally, its ocean views every sunrise and sunset could make the cover of National Geographic or serve as your laptop wallpaper. If you don't want to swim in the ocean in public, you can swim in your own huge oceanfront swimming pool in private.

The pool is 10.5 meters in length, by the way. Also, to enumerate its key features, this 4- bathroom, 3-bedroom villa with a beachfront view comes with a maid room and laundry room, direct access to Bangrak Beach, and exquisite wooden craftsmanship of the décor. Every nook and cranny of the villa has a carved look to it, giving it a rustic tropical feel that blends with the rest of paradise. It's also fully furnished, properly decorated, and air-conditioned while also having ceiling fans to boot. It also includes a private parking area, government-issue water and power utilities, fully walled-in and secure architecture that's also beautiful from the inside and out, landscaped tropical gardens, and a fully equipped modern kitchen plus al fresco outdoor dining area. It even has a spacious terrace and sun-deck as well as church-like oversized ceilings in the living room. Not bad for a villa recently built in 2013, right?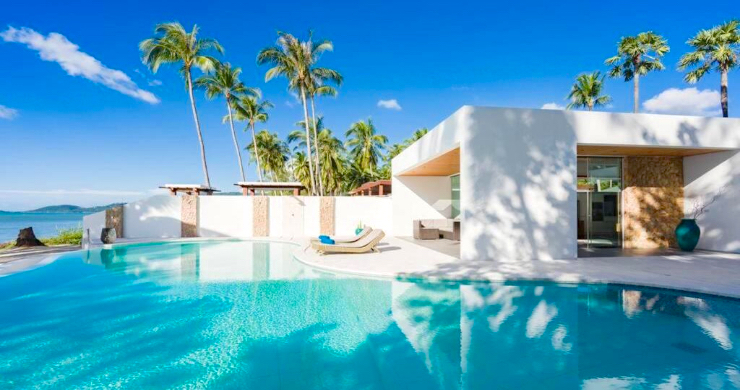 11) Sleek Modern 3 Bed Beachfront Villa for Sale in Lipa Noi
With its superior construction and immaculate finishing, this contemporary chic villa is oozing with magnificence all around. An exclusive estate of Luxury Beachfront Villas, it has 5 bedroom suites, each with its own en-suite bathroom. It also features expansive private ocean-view terraces, state-of-the-art kitchen and breakfast bar, a hanging sofa-bed that's suspended from the ceiling in the middle of the room, and manicured lawns that lead to a private sunbathing beach area.
Designed as a modern open-plan living space, this luxury beachfront villa is located in the secluded "Sunset Cove". It is just within walking distance to the Big Buddha temple & restaurants and with the Six Senses resort just 200 meters around the coastline.
This one-of-a-kind beachfront villa's design is both contemporary and timeless, thanks to its refined yet relaxed beach-house ambiance. It features floor-to-ceiling glass sliding doors; infinity-edge 16 meter ocean-front swimming pool; covered Sala seating area that has a built-in poolside bar, fridge, sink, and barbecue area; and direct access to a private beach. Last but not the least it also has a Jacuzzi and outdoor lounge area, entertainment room, maid's 'back-of-house' kitchen, private garage parking, and storage & utilities room.
12) Unique Headland 4 Bedroom Villa on Taling Ngam Beach
This modern elegant mansion is exudes grandeur, thanks to its outstanding construction and flawless furnishings. This is a luxury beachfront estate with 5 bedroom suites, each with en-suite bathrooms. They also has expansive private ocean-view terraces. The villa houses a luxury kitchen and breakfast bar, a hanging sofa-bed suspended from the ceiling, and manicured lawns leading to a private beach area.
This outstanding seaside residence is designed as a sleek open-plan living space nestled in the private 'Sunset Cove.' There is a huge terraced area with a private pool and poolside Sala.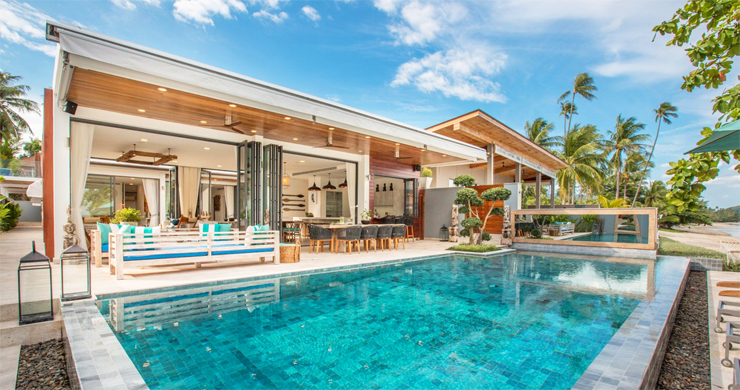 13) Ultra Luxury 6 Bedroom Beachfront Villa in Laem Sor
This outstanding beachfront villa enjoys breathtaking views of the offshore islands in peaceful Laem Sor. This 6-bedroom tropical luxury property spans two levels, with an open-plan concept, wide outdoor deck space, and an inviting 12-metre infinity pool.
The six ensuite bedrooms are located in separate pavilions for utmost privacy and have high ceilings, clean modern decor, and are fully furnished in tasteful tones. In addition, there are 7 ensuite bathrooms with lavish fixtures.
14) Luxury 5 Bedroom Beach Front Pool Villa in Lamai
This Lamai seaside villa features 5 ensuite bedrooms with 6 bathrooms, and a striking roof design that really stand out.
Bedrooms have elegant king beds, and the fifth bedroom serves as a children's bedroom which is located next to the swimming pool. It has a very distinctive glass wall that lets guests see what's beneath the water.
The villa's kitchen features top-of-the-line appliances as well as a grand custom-made oak dining table for up to 20 people. The living room is skilfully decorated and opens onto a huge oceanfront pool with Jacuzzi and sun deck.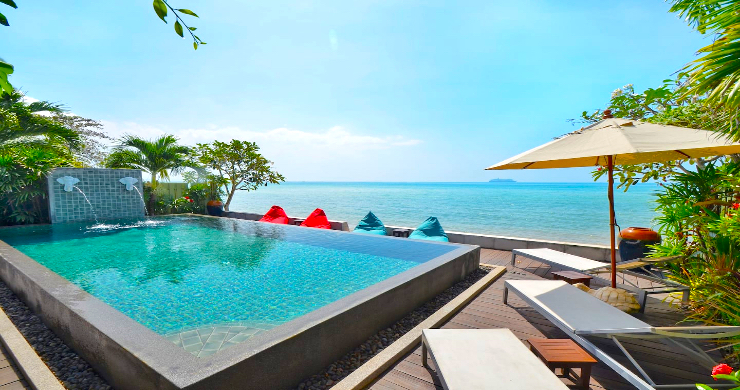 15) Charming 3 Bed Tropical Beachfront Villa in Laem Yai
This charming Beachfront villa for sale in Koh Samui is a 3 bedroom villa that sits on the pristine shores on the northern part of the island. This 3 bedroom villa is well maintained, offering breath-taking views of the ocean. The property is fully furnished, infused with colourful décor giving it a happy and cozy atmosphere with a contemporary tropical theme that exudes chic comfort.
This private beachfront property is competitively priced, and comes 'turn-key' available as a high rental-return luxury villa, a private permanent residence or heavenly holiday home.

Click here to Learn More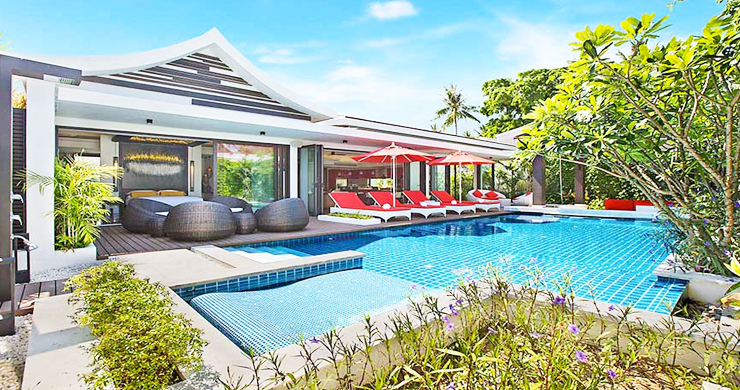 16) Luxury 5 Bed Beachfront Villa for Sale in Hua Thanon
This impressive tropical beachfront home is located south of Lamai Beach in Koh Samui and is undeniably one of the most appealing residences in the area., It features eye-catching French architecture with an ultra-modern kitchen, dining, and living rooms.
It houses five bedroom suites, all of which have direct access to an expansive pool deck, and two of them boast their own private Jacuzzi. The property also features a private swimming pool and sun patio with Sala, both of which are surrounded by a lush landscaping.
The house is in a secure, private gated estate approximately five minutes from Lamai Town, which offers an array of activities and amenities for both locals and tourists.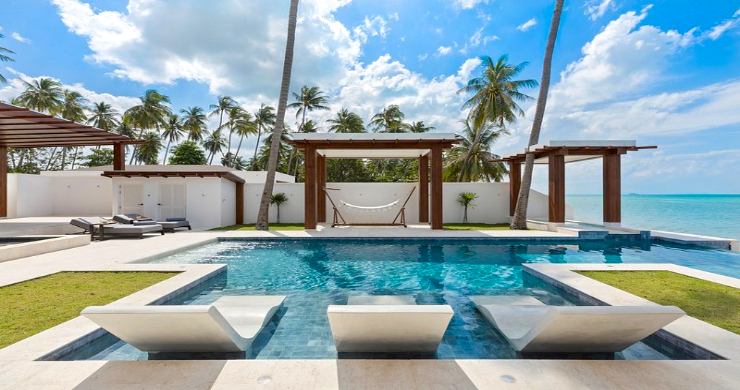 17) Beautiful 5 Bed Beachfront Villa for Sale in Lipa Noi
What's so beautiful about the 5-Bedroom Beachfront Villa for Sale in Lipa Noi? It's a keeper in every sense of the term. Investors can avail of this Chanote Title villa with freehold and leasehold options at relatively bargain prices. The 5-bathroom, 5-bedroom villa in and of itself offers beauty that mirrors its prime location in the private part of Lipa Noi Bay thanks to its modern architecture that many westerners favor. It also helps that it's filled with spectacular sunset sea views as well.

This villa with a prime location boasts of a 1,200 square meter property size and 800 square meter of villa size. It's actually 3 single-story pavilions with teak columns that offer quality finishes and topnotch construction from the best workers in Thailand. It's also fully furnished and decorated from top to bottom. It comes complete with A/C and fans in all the rooms, fitted brand-name appliances, high-speed Internet that you won't get in certain villas, powder-coated aluminium sliding doors, and much more.

If you want to take a dip in private without being bothered by other beachgoers or the rising tides, then swim in your own large oceanfront swimming pool or relax inside the spa with Jacuzzi included in the package. If you're bored, then watch the flat-screen TV or tinker with its multimedia system so that you can view local or cable TV or listen to the radio. These packages also always include the landscaped gardens and al fresco dining area as a matter of course.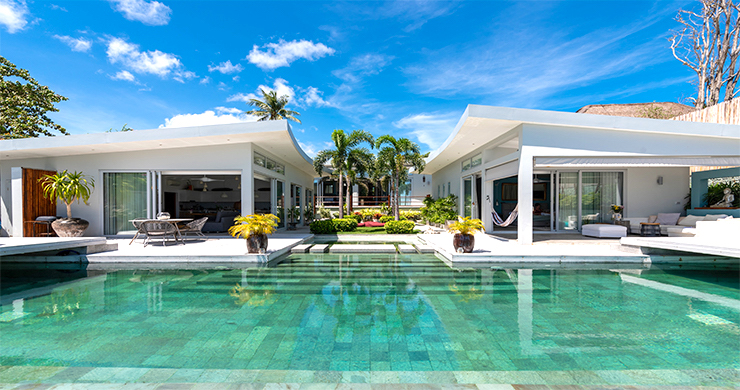 18) Beachfront 5 Bedroom Luxury Villa for Sale in Plai Laem
A spectacular 5 bedroom Luxury Beachfront villa for Sale in Koh Samui -  situated in the middle of a secluded private beach in Plai Laem. The property is situated directly on a pristine white sandy beach and is located just 15 minutes drive from the International Airport and 10 minutes from the famous Big Buddha Temple.

The property comprises of 5 luxurious bedrooms, each with elegant ensuite bathrooms, and beautifully designed and decorated with contemporary stylings. The expansive open-plan living & dining area has a modern fully-equipped kitchen with high-quality appliances. Floor-to-ceiling sliding glass doors open directly onto the spacious sundeck and pool terrace with a private shaded Sala area.

Click here to Learn More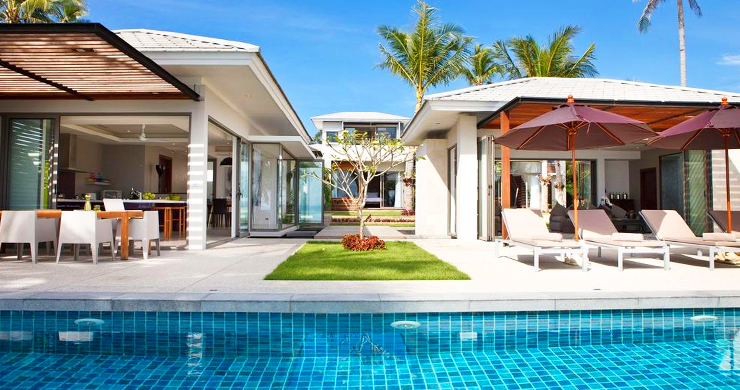 19) New Ultra-Luxury Beachfront 8 Bed Villa in Lipa Noi
This beachfront villa is located on the scenic Lipa Noi beach and has 8 stunning bedrooms. It is a majestic vacation property with two different units: beachfront and ocean view. Both are fully equipped with modern Asian style furnishings.
The beachfront unit has two guest rooms and two large master bedrooms: one with an outstanding ocean view. It has a private zen garden. The other has two floors, with a private ensuite on the upper level and an entertainment room on the lower floor. Guest rooms have tranquil garden views and.
The huge living room has a big sofa, and full-length sliding glass doors. There's a fully-equipped modern kitchen and dining area, and communal areas that overlook a large infinity oceanfront pool, white-sandy private beach, and Five Islands Beach.
The Ocean View standalone home features three spacious bedrooms, each with a lavish ensuite bathroom and a king-size bed. There is also an additional room available for childrens or as maids quarters. The upper-floor master suite includes a balcony with a spectacular view of the ocean. The second-floor communal facilities feature a modern living room, a fully-equipped kitchen and dining room.
This sleek and intimate home also has indoor and outdoor dinng, a pool table and entertainment area, with high-quality built-in sound system, a ping pong table, a private bar, and more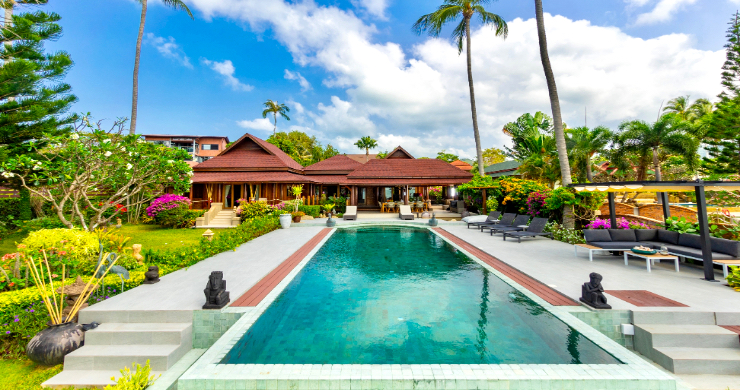 20) Unique Beachfront 4 Bed Tropical Villa in Hua Thanon
The unique thing about the Beachfront 4-Bedroom Tropical Villa in Hua Thanon is its use of Thai-style architecture to better blend in with the Thailand beach instead of using a contrast of western sensibilities in eastern paradise. It's something analogous instead of opposing for a change. For many investors who are into property investment because they love the culture, people, and ambiance of the Land of Smiles, then this uniquely Thailand villa that exudes being Thai might be for them. Its also an extraordinary beachfront villa in a set of similar Freehold Tenure, Chanote Title pool villas in Koh Samui because of how much nature and landscaped gardens it has.

The villa itself is 340 square meters in size in a 1,400 square meter property. In regards to its key features, the 4-bedroom tropical beachfront pool villa comes with a 14 meter by 5 meter beachfront swimming pool. Its beachfront view of Hua Thanon beach covers a 25-meter wide front lawn. It also has your standard expected benefits and amenities of government-issue power and water, private covered parking, lush green garden, built-in dishwasher and oven as well as hob, fully equipped wooden kitchen, and al fresco dining area.

Its architecture has a rustic, tropical feel to it because of its use of wood, its exquisite wooden workmanship in both the walls and floors as well as the furniture, and its fully furnished and decorated look from the start. It exudes the feeling of resting on a hammock with a drink while in the shade overlooking the hot beach. It sets your heart at ease. It makes you feel like you've made it.
In Conclusion
Despite the real estate industry's downturn in 2020 owing to the COVID-19 pandemic resulting in severe border controls, tourist bans, and a scarcity of renters, The Global Property Report stated that Thailand's property market grew at a 5 to 10% yearly rate from 2016 to 2020. This makes it a safe bet for the foreseeable future.'
Thailand land values are far higher, and rental yields are among the best in Asia. This translates to high returns in the luxury property market, with a yield of 8-10% most likely. It has been steadily increasing since 2013, and infrastructure has likewise been improving. It is also a wonderful investment for permanent residency and retirement.
As a result, it is an excellent time to buy beachfront property since prices are still reasonable. After all, its major appeal is its pristine beaches, and these stunning beachfront houses offer not only opulent living but also stunning ocean views and an idyllic living experience.