For decades, the luxury real estate market has dazzled the public with larger-than-life homes, grandiose designs, and stately architecture. When you imagine luxury properties, immaculate landscapes, museum-worthy décor, and finishes, a bedroom (or two) for every inhabitant and a multi-million-dollar price tag are likely to come to mind. So, what if we told you that you could purchase a luxury home with all the bells and whistles for $35,000? You most certainly could, if you were in the 1920's. This begs the question, what was the standard of luxury throughout the century? Here we explore a few differences and similarities of luxury today compared to the luxury of yesterday.
Price of Luxury Real Estate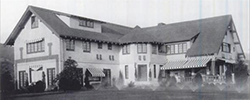 Did you know that the median price of a home in 1960 was just $11,900? Most cars today cost more than that. By 2020, the median price of a home reached $320,000. In 1962, Marilyn Monroe purchased a lavish property for just $75,000, which then sold for $7.25 million in 2017.
Another sprawling estate (pictured, source: Wikipedia Commons), once owned by silent film actress Mary Pickford, was purchased for just $35,000. Named Pickfair, this eighteen-acre property included an oyster-shaped swimming pool with its own sandy beach, kennels, a tennis court, and housing for the fifteen live-in staff.  
One of the most famous estates, Graceland, was purchased by Elvis Presley for $102,500 in 1957, which would be just under $1 million in today's dollars. During Presley's stay at Graceland, the estate grew from 10,266 square feet to 17,552 square feet as he kept remodeling and expanding the neoclassical mansion.