WHISTLER
SQUAMISH
PEMBERTON
  January - March 2021   2021 Q1 Market Update AVERAGE SALE PRICE $1,467,110 (2020 - $1,419,332) MEDIAN SALE PRICE $1,075,000 (03/2020 - $950,000) ACTIVE LISTINGS 207 (03/2020 364) NUMBER OF SALES 315 (2020 - 108) SALES VOLUME $462,139,525 (2020 - $153,287,803) DAYS TO SELL 75 AVERAGE DOM (2020 - 61)   E&OE. Information deemed reliable from the WLS     New Listings & Prices Updated Continuously   Search Whistler Real Estate by Neighbourhood   I have carefully designed the neighborhood pages to offer you the best possible experience in searching the latest listings in your area. From Function Junction to Alpine Meadows. All live now.  
START THE SEARCH...
      Up-to-the-minute information New Listings in the Past 7 Days Be among the first to learn about new Whistler, Squamish and Pemberton listings.
CHECK NOW...
  Whistler Active Listings   Listings and price data is continuously updated  
CHECK NOW...
  Facts & features.
Mortgage calculator.
Map location for every listing you find. Call or text Denise for the details 1-604-902-2033   Whistler SOLD Properties   Get exclusive access to RE/MAX records Direct link:
https://rem.ax/apr19sold
CHECK NOW...
  Call or text Denise for the details 1-604-902-2033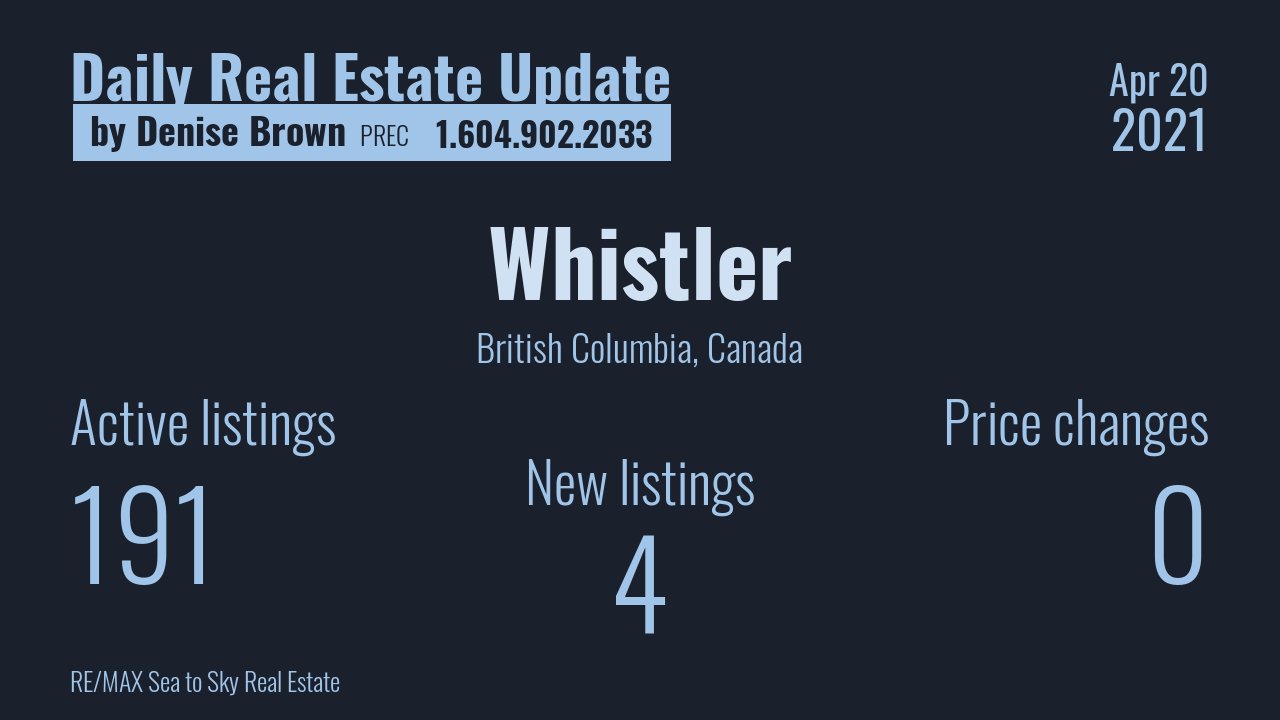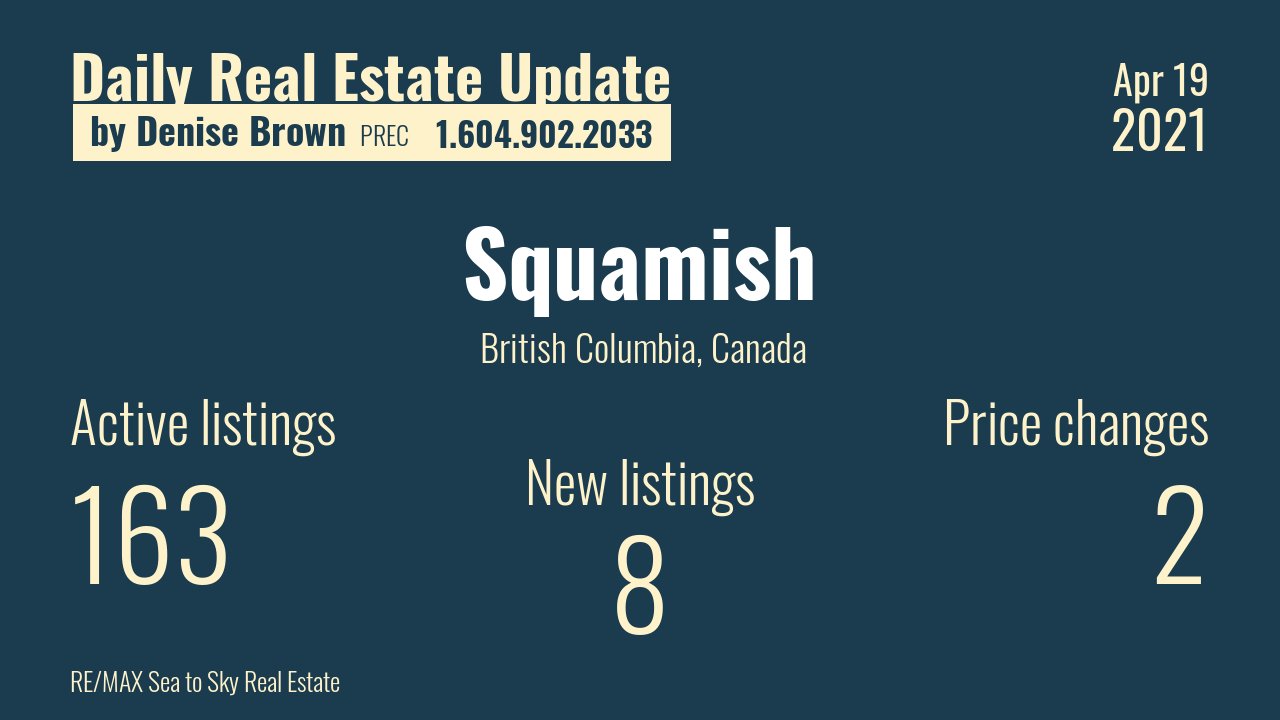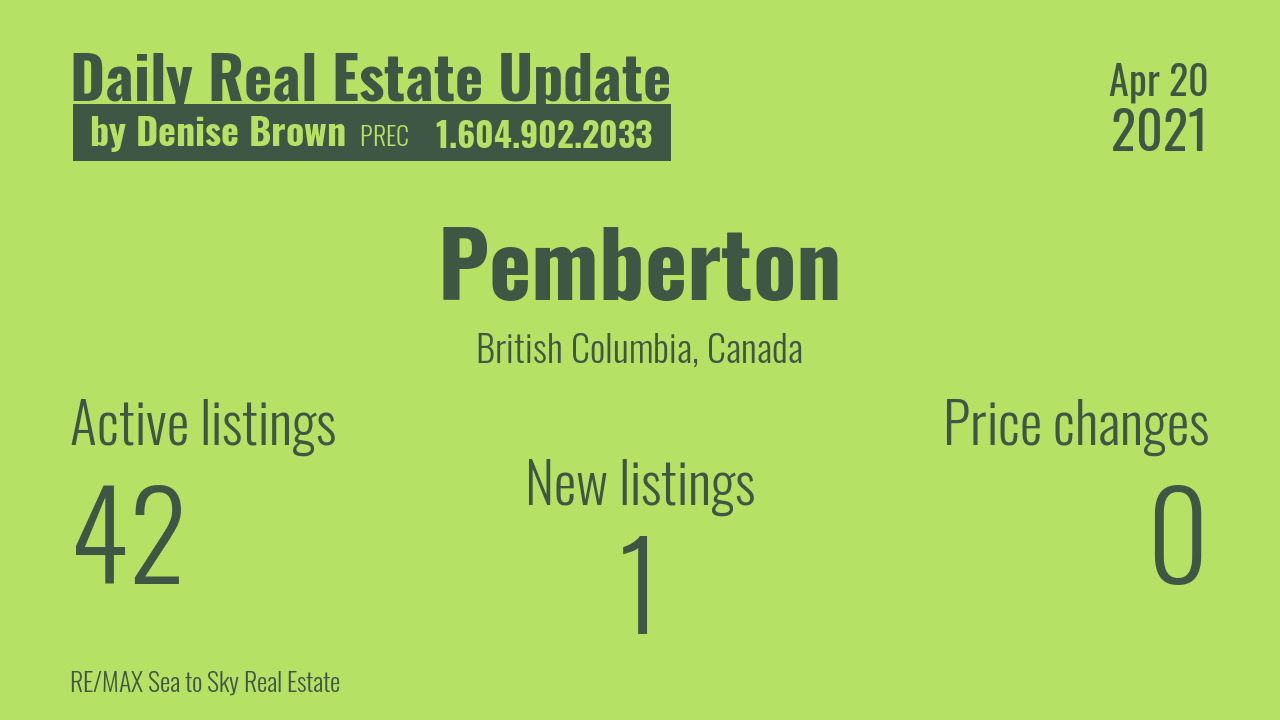 Follow Us We are always looking for new exciting projects and collaborations. Feel free to contact us.  
Contact us
Denise Brown PREC
RE/MAX Sea to Sky Real Estate
106-7015 NESTERS ROAD
WHISTLER, BC V8E 0X1
CANADA
1-604-902-2033
DENISE@WHISTLER-REALESTATE.CA
Sent to: _t.e.s.t_@example.com
Unsubscribe
Denise Brown Personal Real Estate Corporation, RE/MAX Sea to Sky Real Estate, 7015 Nesters Road #106, Whistler, BC V8E 0X1, Canada
Email Marketing
by ActiveCampaign