Courtesy of Fuller Sotheby's International Realty
On location at 5689 Majestic Oak Way, Denver Broncos running back and Super Bowl XLVIII hopeful Knowshon Moreno laces up his Reeboks for a commercial starring himself, a black lamborghini, and a stunning luxury property in Colorado, currently listed for $1.575 million.
Homeowners and Broncos fans Tony Rollins and wife Billie were thrilled when they got the call from their listing broker Rob Molitor of Fuller Sotheby's International Realty requesting permission for Reebok to use their 6,319 square foot home as a backdrop to the legendary athletic brand's commercial. "It was really fun watching Knowshon. We were so pleased they picked our home to film the commercial, especially since it's up for sale," said Tony Rollins, homeowner.
Located in the exclusive and highly desirable enclave "Retreat at The Timbers" in Parker, Colorado, the stone and wood beamed entry and four-car garage played a supporting role to the pro football player, filmed shedding a few tears in the name of Reebok.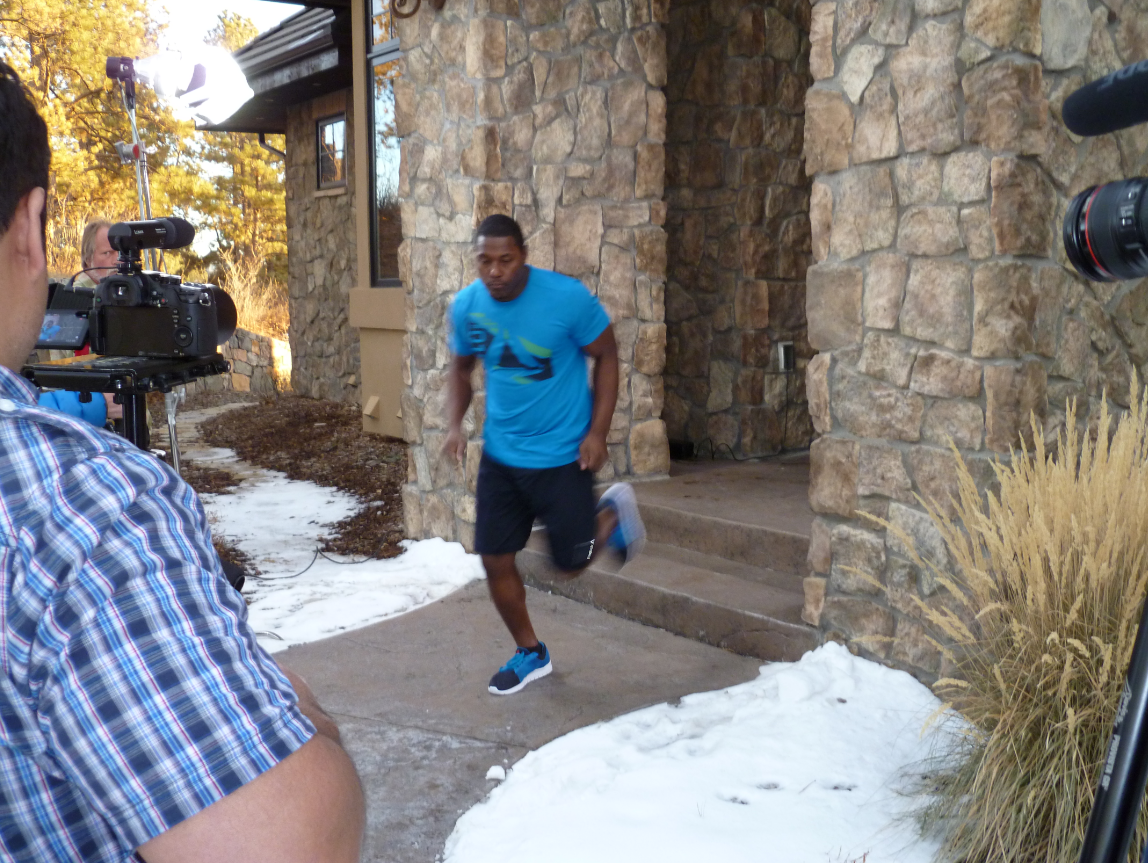 Photo Courtesy of Tony and Billie Rollins
Known for wearing his heart on his sleeve, Knowshon was caught crying after the national anthem during the AFC West matchup against Kansas City back in December. Knowshon told reporters, "Just being so blessed to play this game and being a part of this team, and the different things that go on throughout your life. Just the emotion always gets me. I just love this game so much. I guess it got the best of me again." It appears the Reebok commercial plans to capitalize on Knowshon's image, a genius marketing tactic considering what weighs in the balance if - dare we say - a Bronco's victory occurs this weekend.
The storyboard is said to focus on Knowshon Moreno sprinting in a flash off the steps of the property's entryway for his daily run - partially filmed at Colorado Golf Club - then circling back to his luxury home and treasured lamborghini. The clincher is Knowshon's shining moment when he gets a little choked up over his superior pair of Reeboks, and in sheer admiration says "Beautiful man, just beautiful."
The moral to the story: When Reebok wants to convey speed and agility they think Knowshon Moreno and lamborghinis. When searching for an ideal luxury property they think Fuller Sotheby's International Realty.
"This really speaks to our established presence in Colorado. Fuller Sotheby's International Realty is where people go when looking to buy and sell the extraordinary," said Scott Webber, president, Fuller Sotheby's International Realty.
Filmed on January 3rd, the final cut is scheduled to launch on YouTube and Reebok's website in February, just in time for Super Bowl Sunday. Fuller Sotheby's International Realty wishes the Denver Broncos the best of luck in the AFC Championship Game this weekend, January 19th at Sports Authority Field at Mile High.
Inquiries regarding 5689 Majestic Oak Way call Fuller Sotheby's International Realty at 
 303-893-3200 or visit fullersothebysrealty.com for more information.