Courtesy of The Dawn Thomas Team
We here at The Dawn Thomas Team have been telling you throughout the year that if you're a Seller, now is the time to sell and if you're a Buyer you need to have the best negotiators on your side; now you can see why!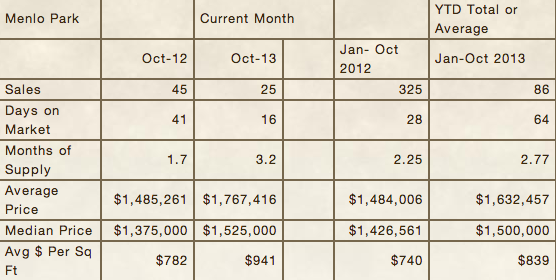 As you can see in Menlo Park, for the month and also the year in 2013 compared to 2012 there is less inventory, less days on the market, less inventory, higher sales prices and higher price for square foot.
While these numbers look great for Sellers, don't be discouraged if you're a Buyer; many buyers right now are over qualified and just need to find the right home and Real Estate Agent to get them there.
We wrote a couple days ago about some of the changes that might be happening in 2014 that will effect housing, there's still time.
And if you're thinking about next year, there's no better time to reach out and get a plan going to hit the ground running in January 2014!